Toyota Football Engine
Fans' Asian Player of the Week: PSMS Medan's Legimin Raharjo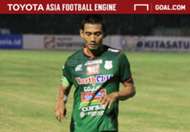 PSM Medan's Legimin Raharjo has been chosen as last week's Fans' Asian Player of the Week, following his impressive performance in his team's 3-1 win over PSM Makassar in the Indonesian Liga 1. 
The star of the show for PSM was was their 37-year-old midfielder Legimin Raharjo, who drove the team on and even scored a brace. 
He was also named Goal's Asian Player of the Week. 
The result could be termed an upset, given the fact that PSM Medan had gained promotion to the top division only this season. PSM were top of the standings, coming into this game and took the lead early on. 
But Legimin Reharjo stepped up for PSMS with the equaliser first with a spectacular effort from 36 yards out. It spurred the home team on who took the lead with a penalty in the 77th minute. Raharjo then elevated the game with a brilliant free-kick in injury time, capping off a wonderful night.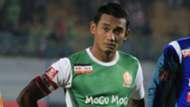 Also in the fray for the honour was Persib's Ghozali Siregar who was also impressive in his side's win. 
But the fans made their voice count as Raharjo received a whopping majority of the votes.