Enyimba
Ezekiel Egbe confident Enyimba Stadium will host matches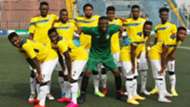 The contractor handling the Enyimba International Stadium, Aba, Ezekiel Egbe has assured that the edifice will be ready for some of Enyimba's home matches before the 2017-18 season ends.
The People's Elephant have been away from their natural home ground since the 2015-16 season when they last won the league title but Egbe who is supervising the project informed that the pitch will be available for the team's home games.
He said that work on the stadium's turf has almost been completed and that with other facilities also being worked upon at the same time the stadium is poised to host some games before the end of the season.
"I can confidently say that Enyimba will play some of their home games before the end of the season because we have worked so much on the pitch and it is almost ready for usage," Egbe told Goal.
"There are still other works that are being done simultaneously be done on the stadium and i am sure that the stadium will get the express approval of the League Management Company and others concerned. I know that Abia State Governor, Okezie Ikpeazu has invested so much in the stadium and he is doing a lot to ensure it is in use as soon as possible.
"We have done what we have been detailed to do which is to put the pitch in order and to work on the scoreboard which is being worked on. We have tested the condition of the pitch during rain and it has been certified that games can go ahead without hindrance. We have done a world class job for Enyimba and good people of Abia State."
The managing director of Monimichelle Sports Construction Company decried the maintenance culture of sports equipment and facilities in Nigeria but he thumbed up the move by Governor Ikpeazu to ensure that Enyimba Stadium is not abandoned after its completion.
"I only have good words for the Governor because he has shown that he has a genuine interest for the people of the state and what he has invested on Enyimba Stadium is a testimony to that," he continued.
"We have started talking on what we must do to properly maintain the stadium pitch to ensure that it doesn't suffer the same plight suffered by others after completion. We are working on completing the work first before we go into that."