Cape Town City
EXTRA TIME: Watch Mateo rally Cape Town Stadium fans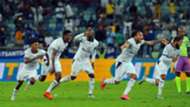 Cape Town City has a secret weapon to get the crowd going in their stadium. It's their little maestro supporter, Mateo. 
Now, you've seen a lot of Mateo over the past year already, but you haven't seen him get the crowd going like this. Mateo's competing with Sundowns players the way he's making the moves and clapping action.
Then there's another video, this time it's City's players themselves full of passion, going through the tunnel. After lifting the MTN8 Cup on the weekend, they have to keep up the intensity into their PSL campaign.
Mateo is ready to get you guys pumped up tonight! #iamCityFC pic.twitter.com/iXoSFOUk0P

— Cape Town City FC (@CapeTownCityFC) October 2, 2018
The fire  is ever-burning with City! #iamCityFC pic.twitter.com/aHJgH9H75V

— Cape Town City FC (@CapeTownCityFC) October 2, 2018