Horoya v Orlando Pirates
EXTRA TIME: How Sundowns and Orlando Pirates fans reacted to Caf Champions League losses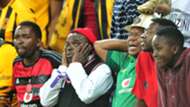 Both South African PSL clubs lost in the Caf Champions League on Saturday evening.
Wydad Casablanca beat Mamelodi Sundowns 1-0 in Morocco. At the same time, in Guinea, Orlando Pirates lost 2-1 to Horoya.
Bucs desperately needed a victory to go through to the knockout stages but never looked like taking the initiative away from home.
The best social media Tweet for Pirates was a video showcasing a Bucs fan named Mohommed in Guinea. You can watch the video filmed by Pirates media officer Thandi Merafe below.
Then one can read all the post match reactions from the fans who were pointing out what went wrong for Pirates.
We also include reactions from Sundowns supporters, who were not very upset with the defeat. In fact they expressed their pride to represent South Africa in the last eight.
#TheGhost

From the millions back home to Mohommed in Guinea - we feel you fam.@horoyaac vs @orlandopirates #PrayForPirates🙏🏾🇿🇦

🖤☠❤⭐#TseNtsho pic.twitter.com/dHYgdtn8Wy

— Thandi Merafe (@thandi_399) March 16, 2019
72 mins: Goal: Mandela has been threatening & eventually squeezes a goal home after rounding his man & firing at goal. The ball clips Sandilands on its way over the line. 2-0 to Horoya #CAFCL

— Orlando Pirates FC (@orlandopirates) March 16, 2019
It was a tough night in Morocco but nonetheless we move onto the knockout stages. #Sundowns #DownsLive #DownsWydad #CAFCL

Wydad AC 1⃣:0⃣ Mamelodi Sundowns

⚽ 63' Nahri

— Mamelodi Sundowns FC (@Masandawana) March 16, 2019
91 mins: Shonga pulls one back as he rounds the defence & taps home past Ndiaye. 2-1 #CAFCL pic.twitter.com/qTmaxkuPTp

— Orlando Pirates FC (@orlandopirates) March 16, 2019
We never replaced LEKGWATHI ,JALI , SANGWENI , KLATE and MEYIWA people who will fight for Orlando pirates

— Mzwandile Mazaleni (@MzwandileMazal2) March 16, 2019
I'm wearing my Orlando pirates Jersey in the kitchen. I'm struggling to lift any cup...

— Khuthie Munyai (@khuthadzomunyai) March 16, 2019
This team was not even strong... It was easily beatable. They ddnt even threaten us too much and yet we lost against them. Wish khosa can loan me this team for a season to coach it, I am sure I can do much better for free

— RomanRabz (@RomanRabz) March 16, 2019
Our Centre Defence (Jele & Ndengane) is too slow n useless, similarly to our midfield (Nyatama & Mlambo) and our over crowded coaching bench!

— Siphamandla Magubane (@SiphaM10) March 16, 2019
The four points dropped against FC Platinum really cost Orlando Pirates. Disappointing to see them knocked out of the #CAFCL

— Tshepo Ntsoelengoe (@Toko900) March 16, 2019
Hard luck Bhakaniya. Lemme play some Zim Ngqawana and soothe this broken heart #OrlandoPirates #OnceAlways

— Perfect Hlongwane (@_wordperfect) March 16, 2019
I 1-2 say to all Orlando Pirates fans, welcome back to planet earth 😂😂😂😂

— Kokwele M. Phillix 🇿🇦 (@Matome_Kay) March 16, 2019
This Horoya F.C or Horror F.C whatever you call it is such an ordinary team. I don't understand the fuss and

They can fit in well at the PSL, very poor but today they played a poorer Orlando Pirates.

You are better than what you gave us today Mabuccaneer!#CAFCL

— Rudzani Mukhwantheli (@Rudzani4VV) March 16, 2019
Another disastrous season hey fam @orlandopirates #ONCEALWAYS

— Ricky_TR (@Tr_Rick1) March 16, 2019
Sundowns the only team in Southern Africa in the last 8, Powerhouse.

— Tshezi (@OnlySimphiwe) March 16, 2019
Pirates 3rd on the log.

Knocked out if the Champions League.
🤣🤣🤣

Sundowns top of the log.
Qualified for the knock out stage of the Champions League
👆🏿👆🏿👆🏿

— DELVIS (@i_Delvis) March 16, 2019
No excuses! We have been defeated on principle family. #Sundowns #CAFCL

— Masala Rabedzwana (@MRabedzwana) March 16, 2019
Sundowns Representing the South African Region https://t.co/iXi8lDPmFU

— Alien Eyez 👽 (@BigLation) March 16, 2019
March 16, 2019