Ajax Cape Town
EXTRA TIME: How South Africa reacted to Ajax Cape Town's Ndoro Gate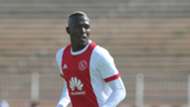 Ajax Cape Town were hoping to fight their way back into the PSL through the courts, but confirmed that they've run out of time. 
They were still seeking help from Fifa to prove their case that they were innocent in using controversial signing Tendai Ndoro.
Using Ndoro has effectively cemented Ajax's relegation to the NFD. Here's how South African football followers reacted on Twitter.
🎥| #UrbanWarriors CEO Ari Efstathiou:

"Ajax Cape Town will be back, and we will be back in the #AbsaPrem for the 2019-20 season."#NdoroGate #WeAreAjaxCT 🔴 1/3 pic.twitter.com/cF90UChKuM

— Ajax Cape Town (@ajaxcapetown) July 27, 2018
Am I surprised by the #NdoroGate & Ajax Cape Town issue?

Look Rob, there is no goat that gets sold with a smile on its face. But no matter how upset it becomes, the frown on its face will not stop it from being taken to the market.

I hope you understand 🤷🏾‍♂️@robertmarawa

— Steve Not Komphela (@BigWordKomphela) July 26, 2018
The gap between Ajax Cape Town and PSL this season. #NdoroGate pic.twitter.com/REvdK6wNEX

— #TouchMyBlood (@IamMoeketsii) July 26, 2018
PSL must bring back Platinum stars into top flight league with inclusion of Black Leopards. Make 18 team league & overhaul the fixture. Win-win situation for all parties concerned.#NdoroGate

— Hloni Nyetanyane (@HloniNyetanyane) July 26, 2018
"I make the following order. Leave is granted to the PSL and AmaZulu to appeal my judgement with regards to the matter (#NdoroGate) " Judge Denis Fisher. @SunSportSA

— Kgomotso Sethusha (@Kgomotsso) July 26, 2018
Ajax have just withdrawn their interdict for the league to start as scheduled #Ndorogate

— Sazi Hadebe (@HadebeSazieso) July 26, 2018
Something is fishy with this Ajax Cape Town matter #NdoroGate

— Garvey (@iAmKingducer) July 26, 2018
#NdoroGate I'm really confused by Ajax's double withdrawal.

I have no clue about their thinking.

Still the PSL's appeal of Fisher's ruling to come.

If the appeal is unsuccessful, it could possibly send shockwaves through SA football like Adv. Mokhari's ruling.

— Carl Lewis (@Carl_LewisZA) July 26, 2018