Africa Cup of Nations Qualification
Extra Time: Ghana president Akufo-Addo visits Black Stars in Ethiopia ahead of Afcon qualifier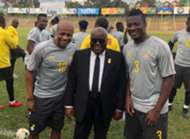 Ghana president Nana Akufo-Addo made time out of his busy schedule to visit the Black Stars in Addis Ababa ahead of the 2019 Africa Cup of Nations Group F qualifier against Ethiopia on Sunday.
Kwesi Appiah's men are third in the group with three points and are in dire need of a victory to close in on Kenya who tops the log with seven points.
The visit comes at the right time as the president assured the players of his support and promised to provide everything necessary to facilitate their qualification and winning of the Afcon trophy.
"We defeated them 5-0 at our home. Isn't it? That is in Kumasi. So, you have to repeat it in front of their home fans," the president said.
"It's been long since we won the Afcon trophy. The last time we did it was in 1982 and that is a very long time. So I urge you guys to work hard for us to win it this time around.
"You have a famous coach and I am here to wish you good-luck and promise you of my support to win the trophy," he added.
Akufo-Addo is in Addis Ababa purposely for  the 11th extraordinary session of the African Union assembly attended by 55 Heads of States. The programme began on Saturday and will close on Sunday.
Ghana president @NAkufoAddo visited the Black Stars this evening at their training ground in Addis Ababa ahead of the Afcon qualifer vs Ethiopia.

Kwesi Appiah's men must avoid a stalemate or defeat to stand a chance of making an eighth consecutive appearance at the competition. pic.twitter.com/D6xfeJ5qaX

— Evans Gyamera-Antwi (@ashesgyamera) November 17, 2018
Ghana's contingent, which is made up of 19 players, arrived in Ethiopia on Saturday after pitching camp in Kenya since Tuesday.