African All Stars
EXTRA TIME: Didier Drogba pays tribute to Henri Michel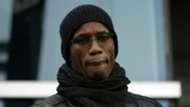 African legend Didier Drogba has paid tribute to former Cote d'Ivoire manager Henri Michel following his death on Tuesday.

Michel passed away at the age of 70 after battling with health issues.

The Nantes legend managed six African countries - Cameroon (1994), Morocco (1995), Tunisia [2001], Cote d'Ivoire [2004], Equatorial Guinea [2011] and Kenya [2012].

The ex-France coach also managed clubs across Egypt [Zamalek], South Africa [Mamelodi Sundowns] and Morocco [Raja Casablanca].

Saddened by Michel's demise, Drogba eulogised the man who guided the Elephants to their maiden appearance at the Fifa World Cup in 2006.

"Dear Henri, the emotion is great and the memories are many and imperishable," Drogba wrote on Instagram.

"13 years have passed but each time I come across these images, or even approaching this Fifa World Cup in a few months, I can not help but think of you.

"When Robert Nouzaret left the squad in 2003, Cote d'Ivoire was without a coach just weeks before the 2006 World Cup qualifiers.

"At a meeting between leaders and players to choose the new coach, your name was quoted and immediately, I insisted that if you want to go to the World Cup you need a coach who has already qualified African teams for this event. Something told me it was you we needed!

"You who took us under your thumb like a father in 2004, you allowed us to fill the Stade Felix Houphouet Boigny in Abidjan and especially, the Ivorians to vibrate in unison behind their national team.

"We have lived so much during this period, from the sudden death of Mama Ouattara to the qualification for the 2006 World Cup in Germany through this African Golden Ball, the first for an Ivorian.

"My first match as captain of the national team was with you as coach and this day is engraved forever in my memory, that of all Ivorians and the world of football because these images of our first qualification to a World Cup are rare and unforgettable.

"This famous day that I have named "Khartoum's call" comes back to you. Very few people believed it, but your pre-match message once again showed your hope and determination as a legend.

"I could write some things but I will end by thanking you for helping Africa to grow because your trips to Morocco, Cameroon and Ivory Coast have marked the history of the continent.

"Thank you Henri, my condolences to his family and the world of football, the Prince has left us. Rest in peace coach Henri."