Explained: Why Ronaldo is on 399 Real Madrid goals despite 400 claims
Real Madrid star Cristiano Ronaldo hit a stunning hat-trick to help his side brush rivals Atletico aside in the Champions League on Tuesday evening.
The Portugal captain tore Diego Simeone's side apart in the semi-final at the Bernabeu, scoring his first with a headed goal from close range inside the opening 10 minutes.
Ronaldo matches Messi hat-trick record
He followed that up with with a powerful half-volleyed finish past Jan Oblak and then completed his hat-trick with just a few minutes remaining to leave Atletico needing a miracle to advance.
That final goal brought the tally to 399 for the 32-year-old in Madrid colours, but there are those - Real Madrid and Ronaldo included - who believe he has in fact now scored 400. So what's the issue?
---
WHY ARE THERE CLAIMS RONALDO HAS 400 GOALS?
---
Real Madrid are quite adamant that star man Ronaldo has scored 400 goals for the club since he joined them from Manchester United back in 2009.
The club posted on their official website and social media pages about what they believe was the landmark goal after he scored in the 86th minute to complete his hat-trick.
...398, 399... 400!

@Cristiano#HalaMadrid pic.twitter.com/p8bwfd2Ui4 — Real Madrid C. F. (@realmadrid) May 2, 2017
Ronaldo himself is also of the belief that he has scored 400, and told reporters as much after the game. He said: "The team did a tremendous job, we were outstanding.
"It was a complete performance and we performed very well right from the first whistle to the last. I'm very happy to have struck a hat-trick and made it 400 goals for Real Madrid."
---
WHAT'S THE REASON HE'S NOT ON 400?
---
Real Madrid remain absolutely convinced that Ronaldo, after his latest Champions League hat-trick, is now on 400 goals for the club.
It's a view shared by many supporters and Spanish newspaper Marca.
It all boils down to a goal that was scored in a fixture in 2010 that saw Madrid defeat Real Sociedad 2-1.
In the 74th minute, Ronaldo stepped up to hit home a free-kick that took a deflection off team-mate Pepe before ending up in the back of the net.
The Portugal defender even told Marca at the time: "Regardless of what the official match report says, the goal belongs to Cristiano."
La Liga, however, officially credited the goal to Pepe, meaning that Ronaldo is actually stuck on 399 and not 400.
---
WHEN WILL HE SCORE GOAL NO. 400 FOR MADRID?
---
Ronaldo will, of course, have plenty of chances to officially bring up 400 goals in a Madrid shirt before the end of the season.
Zinedine Zidane's side face Granada away from home on May 6, before the return Champions League leg against Atletico on May 10.
Ronaldo urges fans: Stop whistling
After that comes a meeting with Sevilla at the Bernabeu on May 14, before Madrid take on Malaga on the weekend of May 20-21.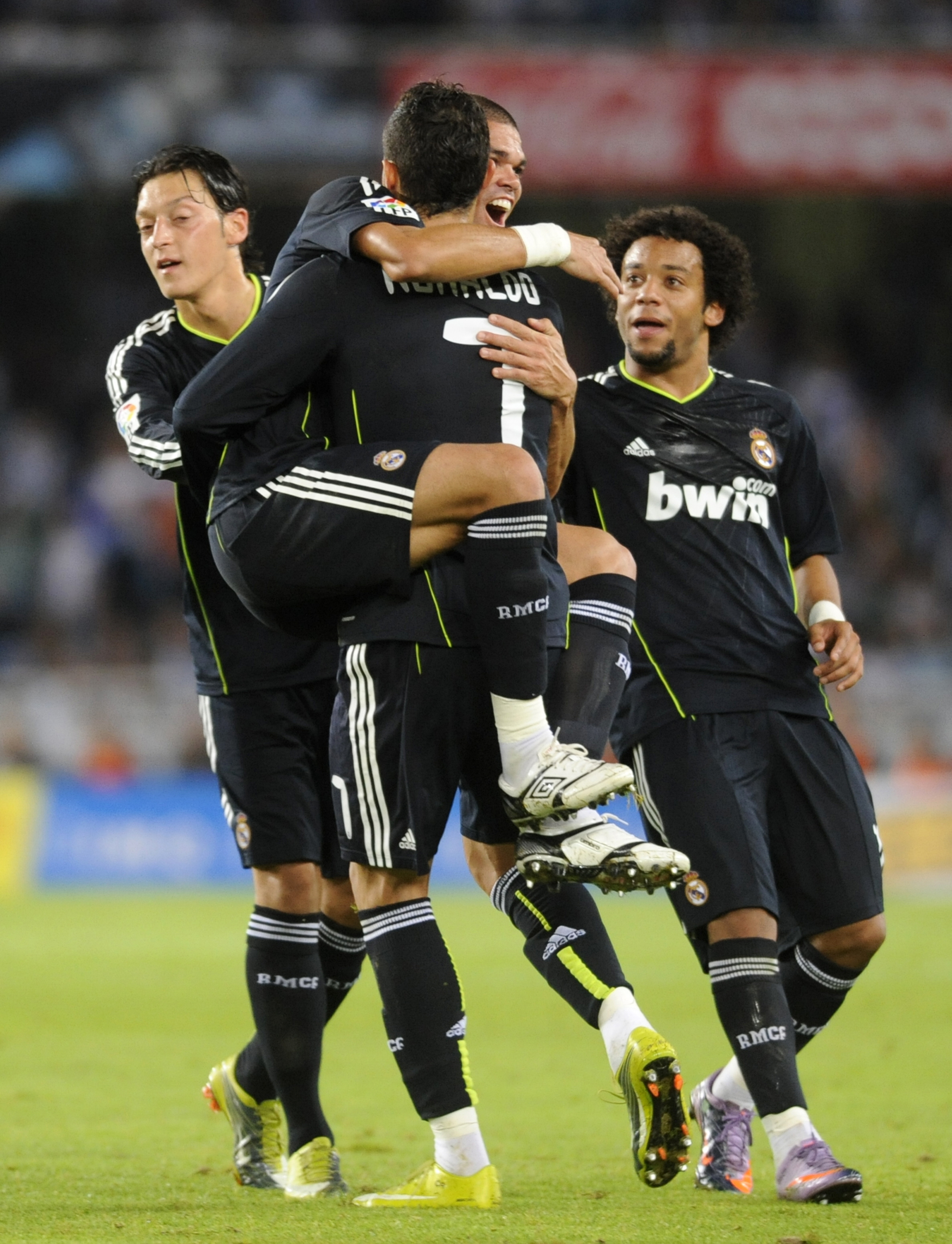 The likelihood is that Ronaldo will be lining up in the Champions League final to face either Monaco or Juventus, with that fixture in Wales being played on June 3.
There is also the postponed meeting with Celta Vigo from back in February to squeeze in, which is scheduled to take place between the final matchdays of the campaign.
---
HOW MANY DOES MESSI HAVE FOR BARCELONA?
---
Lionel Messi is officially on 502 goals in all competitions for Barcelona.
The Argentine superstar brought up his landmark 500th in the 3-2 Clasico win over Real Madrid at the Bernabeu back in April.
500 - Lionel Messi has scored his 500th goal for Barcelona in all competitions. Stellar. pic.twitter.com/Jx3kUl1CQ9 — OptaJose (@OptaJose) April 23, 2017
Incidentally, Messi's 400th goal came back in April 2015 as he scored in the dying seconds of a 2-0 win over Valencia, a feat he achieved in just 471 matches.
"Four hundred goals for Barcelona and I hope to score many more!" he wrote on his official Facebook page at the time.