Declan Rice
England's secret meeting with West Ham star Rice revealed but Ireland still confident he'll pick them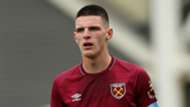 West Ham United midfielder Declan Rice could be persuaded to commit his international future to Ireland by Robbie Keane, says Mick McCarthy.
McCarthy was appointed as the Republic's new manager on Sunday, following Martin O'Neil's departure, and Keane was announced as a member of his coaching staff.
The future of Rice has been a major talking point in Ireland over the last few months as the midfielder has already won three caps for the Boys in Green but could still opt to play for England, his country of birth.
Reports suggested Rice had pledged himself to the Three Lions back in October, but McCarthy confirmed that he still aims to secure the 19-year-old's services.
"I will take Robbie with me and see if that has any bearing on it," McCarthy told a press conference on Sunday.
"He's a good young player and someone we should be looking to build a team around."
McCarthy, who took Ireland to the 2002 World Cup during his previous stint in charge of Ireland, has been in talks with Rice's father and said the teenager was unconvinced when he visited England's training complex at St George's Park.
"They asked him to go up to St George's Park and it's an amazing place, (but) he was overwhelmed," the former Ipswich Town boss continued.
"His Dad said he didn't think for one minute that little bit would come out and that it would become such a big story.
"You don't until you are in that Premier League or international stage, so he is quite overwhelmed by it and he just wanted a bit of time out.
"So he's had that, I will go back and ask him now, and I'll take Robbie with me to see if that has any bearing on it."
Alongside McCarthy's announcement, it was revealed Stephen Kenny will take over in 2020,  but McCarthy is under no illusions and insisted he needs to get results to retain his job until then.
"It is vital to qualify (for the European Championships in 2020)," he added. "If we don't qualify, I guess, I'll be off and Stephen might get the job a bit early.
"If we do really well in the next two years, then there might be a Premier League job there for me, if we don't, then you won't want me to stay."