Transfers
Emmanuel Adebayor extends contract with Istanbul Başakşehir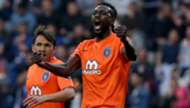 Togo international, Emmanuel Adebayor has signed a three-year contract extension with Istanbul Başakşehir on Friday.
The lanky striker scored seven goals in 16 appearances last season to help Abdullah Avcı's side to the second spot on the Süper Lig log.
The former Real Madrid forward took to the social media to share his excitement on the new deal.
"(I have) spent some very good months here in Istanbul. I couldn't ask for a better welcome and treatment from the Turkish population," Adebayor tweeted.
"I'm very excited to announce that we'll be extending our journey together.
"Special thanks to everyone that is part of the club for putting trust in me, looking forward to making history together in the next 3 years."
SEA, spent some very good months here in Istanbul. I couldn't ask for a better welcome and treatment from the Turkish population. (Part1) pic.twitter.com/bkwb8SmQ5M

— Emmanuel Adebayor (@E_Adebayor) August 25, 2017
I'm very excited to announce that we'll be extending our journey together. Special thanks to everyone that is part of the @ibfk2014 (part2)
— Emmanuel Adebayor (@E_Adebayor) August 25, 2017
for putting trust in me. Looking forward to making history together in the next 3 years🇹🇬🤝🇹🇷🙏🏾⚽️ 🖋📑 (end)
— Emmanuel Adebayor (@E_Adebayor) August 25, 2017