World Cup
Edwin Gyasi defends decision to pick Ghana over Netherlands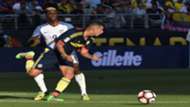 Ghana midfielder Edwin Gyasi says he is not troubled by his decision to pick the Black Stars ahead of Netherlands.
The 26-year-old was born in Amsterdam to Ghanaian parents and although, he represented the European country's youth side at a point, he opted to play for the country of his parents.
"I don't regret choosing Ghana over Netherlands. I speak Twi, my parents are from Ghana and I also don't feel like I'm Dutch, because I'm a Ghanaian," Gyasi told GNA.
Gyasi was on target for the first time in Ghana's jersey against Egypt last Sunday, as the Black Stars shared the spoils 1-1 in the 2018 Fifa World Cup last qualifying game.
"When I scored my debut goal, I could not believe that I have scored. And after scoring, I didn't know where I was running to on the field," he said.
"Scoring for the Black Stars is the proudest moment in my career. The crowd exploded and so I enjoyed it. It feels great [to score] because everybody was happy for me including coach Kwesi Appiah and my teammates even at the club side. 
"He (Kwesi Appiah) told me he was proud of me and I should keep on with my best. And my teammates at my club texted me that they were really happy for me," he added.
Gyasi's younger brother Raymond has also chosen Ghana over Netherlands but he is yet to earn a senior national team call-up.