East Bengal
I-League: East Bengal's Gurwinder Singh donates boots to club's U-15 team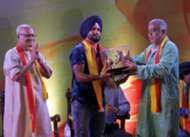 Gurwinder Singh, East Bengal's player of the year last season, has donated 30 football boots to the club's U-15 side. The defender used the cash prize he got along with his award to buy the boots for the junior side.
Several players from the East Bengal U-15 team come from very humble backgrounds and cannot afford to spend on the basic equipment. When the Punjabi defender heard about this issue he immediately ordered 30 pairs of boots.
The Red and Golds' U-15 side is managed by Sujit Chakraborty who had previously served the club's senior side as the assistant coach under Armando Colaco and Eelco Schattorie during the 2014/15 season. On Gurwinder's contribution to the junior side, Sujit said, "It's good that senior players like Gurwinder have come forward to help the young players. We don't get to see this often."
The East Bengal defender was more than happy to help the club's youngsters. "I am happy to help them, they needed it more than me," Singh told Goal on Monday.
Gurwinder Singh, who joined the club seven years ago from JCT, has also served as the club captain on multiple occasions.
The 30-year-old has been a regular starter for Khalid Jamil's side this season in the Calcutta Football League (CFL) since Arnab Mondal's departure for national team duty. He has played brilliantly so far in the tournament and as a result, East Bengal has only let in two goals in five matches. The defending champions are on a five-match winning streak and are well on course to win the CFL for the eighth time on the trot.