Cameroon U17
Draw in Nigeria an advantage for Cameroon, says Diane Tchanko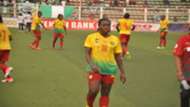 Cameroon's Diane Tchanko is delighted following her side's 2-2 draw against Nigeria as she described it as an advantage in their bid to qualify for the 2018 Fifa U17 Women's World Cup ticket.
Marie Ngah and Alice Kameni were on target in the first half as Stephane Ndzana's ladies earned a first leg draw and two massive away goals at the Samuel Ogbemudia Stadium.
And the Amazone FAP star assures that they will do better to win the second leg in Yaounde as to secure one of the African slot to this year's finals in Uruguay.
"First, we are very happy to come and play against the Nigeria U17," Tchanko told Goal.
"Before now, we didn't know anything about the Nigerian team but now we know. In Yaoundé, We will be very prepared and we shall show them the other face of Cameroon.
"We are even happier because we know it is not easy to get a draw in Nigeria. Everyone knows Nigerian footballers play very well so a draw for us is an advantage.
"I noticed three good players in Nigeria team, especially the winger with number 10 because she was faster than us and gave us lot of problem and we will plan to stop them.
"Many of us like me have not been to the World Cup and we hope to do everything to make sure Cameroon qualify for the tournament in Uruguay. We will be waiting to beat Nigeria in Yaoundé as revenge for our African Women's Nations Cup title loss in 2016."
With the draw, Cameroon need only a 1-0 win or 1-1 draw to deny Nigeria for the first time and qualify for their second consecutive Fifa U17 Women's World Cup.