Ghana
Doe tells Ghana FA vice president Afriyie to resign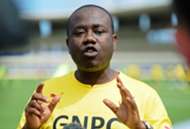 Ghana FA vice president George Afriyie has been advised by the association's former executive committee member M.N.S Doe to relinquish his position, after allegedly insulting his boss Kwesi Nyantakyi via a text message.
According to reports in the local media, Afriyie launched a scathing attack on Nyantakyi, who doubles as Confederation of African Football's first vice president, labelling him as 'greedy and selfish' following disagreement on contracts involving the Black Stars friendly games against Mexico and USA on June 28 and July 1 respectively.
"I don't think George Afriyie should occupy the position as the vice president of the Ghana FA again after that text message he sent to Kwesi Nyantakyi," Doe told Happy FM.
"He must do the honourable thing by resigning. Even if the text messages he sent to Nyantakyi are true as we've been made to believe, then he should leave his post immediately.
"At least, he should have reported Nyantakyi's conduct first to the EXCO before he could even dream of taking a swipe at his boss but he didn't do that initially. Do you think he'll feel comfortable around Nyantakyi henceforth even if they resolve their differences?
"This was exactly what happened between [Jomo] Kenyatta and [Jaramogi] Odinga, and in the end Odinga resigned because he couldn't cope with the consequences. Odinga even consulted cabinet before tending in his resignation, but with Afriyie, no, he should do it immediately without any consultation," he said.
"I think he has no business occupying that position. He can resign as the vice president but still work as an executive committee member," he added.
Goal understands that Ghana's youth and sports minister Isaac Asiamah has met the two parties in a bid to resolve the rift.
Afriyie became the vice president in 2015 and he's the fourth person aside Fred Pappoe, Jordan Anagblah and Fred Crentsil to deputised Nyantakyi since the latter took over from Dr. Nyaho-Nyaho Tamakloe in 2005.