Southeast Asian Games
Despondent OKS praised Thailand game maturity after narrow final loss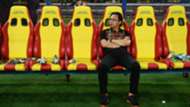 Malaysia's winning run in the 2017 KL SEA Games came to an abrupt halt in the final after suffering their only defeat in the tournament, but it came in the match which mattered the most. A 1-0 reverse to Thailand at Shah Alam Stadium brought and end to Malaysia's gallant run, a case of one last mountain too tall to climb.
Having had a wonderful tournament, it was Haziq Nadzli's blunder towards the end of the first half that cost Malaysia the gold medal. An unfortunate passage of play for the young custodion, who inadvertently punched the ball into his own net from a Sasalak Haiprakhon's corner kick, but was always faultless before and after that error.
Datuk Ong Kim Swee faced the press after the match and wants the Johor Darul Ta'zim player to learn from this mistake but expressed his gratitude to the players who have done the country proud with their run to the final.
"Of course, it's not easy for him to concede that type of goal. But it happens to anybody. We can't blame him. At the same time, he's a very young goal keeper and he has a very bright future. He has to push this away and take it as a very good learning process."
"We gave a good challenge, a good fight to Thailand. We know that they are a good team but to concede that kind of goal, it came at a wrong time. At the end, the boys gave everything they had and unfortunately we can't get the equaliser," said Ong.
When Malaysia were chasing the game in the second half, Ong had to take off an injured Jafri Chew as well as surprisingly, Safawi Rasid. In their stead came Syafiq Ahmad and Akhyar Rashid. Both produced commendable contributions late on, especially the latter but it wasn't enough to drag Malaysia back into the game.
"You can see Safawi not performing that well today and doesn't give enough depth in attack. Once Syafiq get in, you can see a lot of movement forward. Of course, you have to think about Safawi playing a lot of games and is fatigue. Of course, we had to change the strikers."
"Even Jafri, he gave everything for 75 minutes and he was struggling. Akhyar came in and did a lot of runs and that was what we needed at that time," explained Ong.
Given the limited preparation time that the team had prior to the tournament, compared with the other teams who had training camps that started two or even four weeks earlier than Malaysia, the performance throughout the competition was one that deserved a lot of praise.
From suffering a comprehensive 3-0 defeat just last month in Bangkok to the same team, to have been able to reduce that and provide a far stiffer competition to Thailand on Tuesday night, was testament to the work Ong and his coaches have put in over the course of the last 5 - 6 weeks.
"If you ask me whether I'm happy, of course I'm not because we didn't win the gold medal. But overall, the boys gave everything and that is very important in a very short limited that we have. We proved in the group stage and semi-final that we can compete with any team in South-East Asia. Even though we lose today, I believe we're on the right track."
"If you look at the players we have, different set of players and we gave them a good fight. I always say that Thailand is a good team. Their players are more matured and that's what we need to catch up to them," added Ong.