Del Piero credits Zidane's Italian football education for Real Madrid success
Last Updated
Alessandro Del Piero credits Zinedine Zidane's time as a player in Italy as a major influence behind his management style.
Real Madrid coach Zidane masterminded a 3-0 victory away at former club Juventus in the Champions League quarter-final first leg last week which leaves the 12-time champions with one foot in the semi-finals ahead of the return leg at Santiago Bernabeu on Wednesday.
Cristiano Ronaldo scored twice at the Juventus Stadium, including a brilliant overhead volley, and Zidane's decision to pair the Portugal captain with Karim Benzema up front with Isco in behind paid dividends.
Zidane's tactical flexibility has served him well so far in the Real Madrid hotseat and that is something Del Piero credits to an Italian football education.
"As Italians, we are maniacs with some things," Del Piero told Goal in in his role as ambassador for the UEFA Champions League Trophy Tour Presented by Heineken.
"When you see his team, you can clearly feel that and see that something is going on."
Zidane enjoyed five seasons with Del Piero at Juventus, winning two Scudetto titles, and worked under World Cup-winning coach Marcello Lippi as well as Champions League legend Carlo Ancelotti.
"He has had the two coaches that changed a lot," said Del Piero. "Ancelotti and Lippi for him were very important for many reasons. I believe he thinks about Italy a lot when he's coaching.
"He's showing things he learned during his career as well, not only what he's studying.
"The experience in Italy is very unique as a coach. Because you are under pressure a lot from every part of the job, fans, media, clubs and players sometimes. For us football is the first thing. It's primary. You need to be 100 per cent."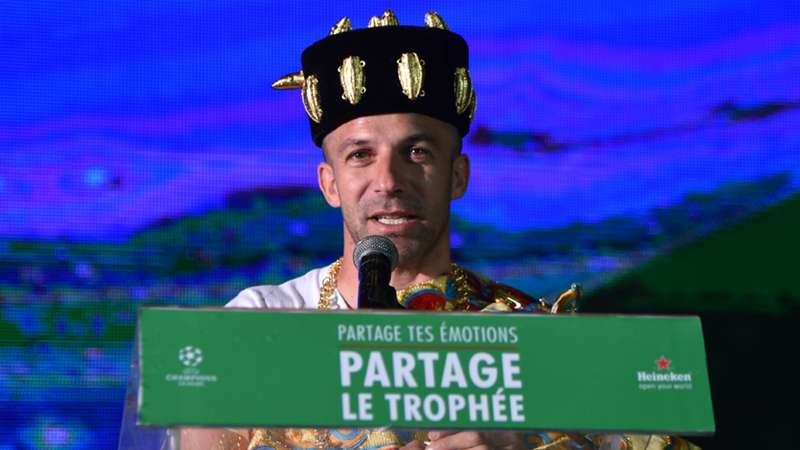 Zidane has won two Champions League titles as Madrid coach having taken over the team from Rafael Benitez at the start of 2016 and this season is hoping to lead them to a third in succession.
He stepped up from the Madrid Castilla team having completed his coaching badges in the summer of 2015 and assisting Ancelotti during the club's famous Decima victory against Atletico Madrid in Lisbon a year earlier.
Del Piero says he is impressed with the work undertaken by his former team-mate which has culminated in a glut of major honours but admits to being surprised at the speed at which he has accumulated titles.
"Everybody is still in love with Zidane the player," he said. "But he got a lot of experience first under Ancelotti and then with the second team at Real Madrid. He studied a lot.
"I spoke with him and he was explaining how much he was studying and going around all the teams in France and Spain to look at what the other coaches were doing and how things were going on.
"He's a very smart guy and he knows how to do it and it shows in the work. I'm surprised a bit because he won the Champions League straightaway when he got the job.
"He found straightaway the way to make a successful team and put everybody on the same page. It's not easy at that kind of club."
Alessandro Del Piero is an ambassador for the UEFA Champions League Trophy Tour Presented by Heineken®. In 2018 the UEFA Champions League Trophy Tour Presented by Heineken® will visit six markets across four different continents providing fans outside of Europe with the opportunity to experience a sense of the film like drama of the events.