CAF Champions League
Defiant Walusimbi: I will play for Gor Mahia if they meet my demands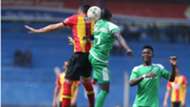 Godfrey Walusimbi might have played his last game for Gor Mahia in a 0-0 draw against Esperance on March 7.
The talented Ugandan defender is defiant that he will only return to Gor Mahia squad if the club clears all his dues.
Walusimbi failed to travel with the rest of Gor Mahia squad to Tunisia for the Caf Champions League return leg after both parties failed to reach an agreement on payments.
The defender was among the final 21 man squad named by coach Dylan Kerr for the assignment against Esperance of Tunisia after strikers Kevin Omondi and Ephraim Guikan were dropped owing to injuries.
But the Ugandan did not show up at JKIA after Gor Mahia failed to meet their end of the bargain in a transfer saga that has dragged for months.
The defending champions have allegedly failed to pay Walusimbi the Sh2 million transfer fee. "I have told them (Gor Mahia) that I will only return after the payments are done. I was to travel only if they had met their pledges," Walusimbi told Goal in an exclusive interview.
"No way! You can't pledge payments three times and when I call, you completely ignore my calls for two weeks. I call every day and you don't reply. Two days to the date of departure, you send me an SMS that I come we discuss the money issue."
Walusimbi also took issues with the speed at which Gor Mahia officials rush to the media to reveal the transfer talks with players even before the deal is sealed.
"When you negotiate a contract with them, before even you agree, they put on social media as if you have signed already; killing other opportunities for you.
"Why don't they include that, "he has signed but we have not given him the money?" That it's a 'debt contract'.
"They should come out and speak the truth on the whole issue. My job is to play for the club, achieve victory, and get paid, but not to make friendship because football is business."
Walusimbi renewed his contract with Gor Mahia last December for a further two years.