Decisive Bruce Kamau edging closer to European dream and has Warren Joyce to thank
An hour of the match had been played, and Warren Joyce made his way from the edge of the technical area towards the bench, occupying the spot Marcin Budzinski had vacated earlier. If he had looked casual and relaxed on the outside with just the jacket, shorts and joggers, deep down, he was anything but.
By that stage, Melbourne Victory had equalised, through star attacker Leroy George and looked to have the upper hand. James Troisi nearly added a second two minutes later, too, with his left-footed drive flashing just wide of the far post.
Sensing a shift in momentum, Joyce approached Tim Cahill with the intention of deploying him as an impact substitute. Their working relationship may have only been brief, but the 52-year-old knew exactly what the talisman could do. He's strong, clever, incisive and clinical and, with 30 minutes left on the clock, was the ideal player to do the damage.
Instead, it was another man who took centre-stage. It was him, again, as it has been so far this season. Bruce Kamau.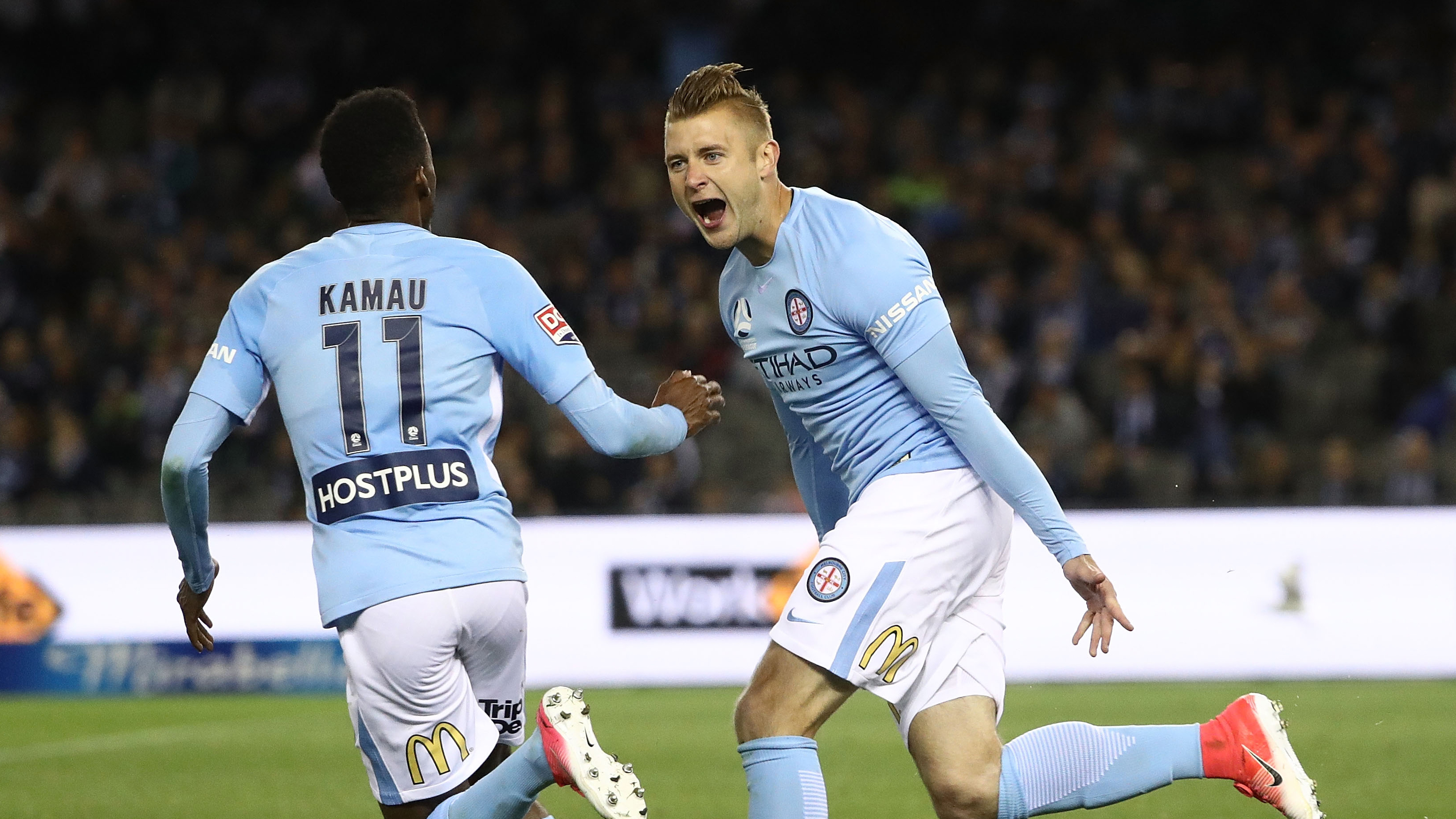 "You also need to know when to attack and counter and drive through with penetration," the Melbourne City boss said. And that's exactly what they did.
He might not have been at his best throughout the match, but Kamau was crucial in the side's first, holding up the ball and offloading it to Nick Fitzgerald to set Budzinski through on goal just before the interval. But with 25 minutes left on the clock, the roles had reversed as Fitzgerald released Kamau down the left-flank, leaving the Victory defence for dead. He fired home the side's second; the shot took a lucky deflection, and the goal secured a derby victory, and perhaps more importantly, a spot at the top of the ladder.
That was appropriate, and yet for so long it seemed destined that he might not be able to make the step up, well, not just yet. Since the beginning, he had been known as the dazzling teenage sensation in Adelaide United's youth system with a vast technical ability and menacing on the run. He impressed at Adelaide Olympic at a young age before eventually spending two seasons at in the Red's first-team before departing for the reigning FFA Cup champions.
At 22, he's won all that there is to win in Australia. For many, it's a privilege, but by that same token, it becomes easy to become complacent too. There were glimpses of his talent from time to time but he often lacked the final product. Now, he has three goals to his name, tripling his tally from 26 matches in the previous campaign. He also same number of goals he managed during his two-year spell in Adelaide this term alone, and the A-League is only two rounds deep.
Ask anyone who knows Kamau and they will tell you he's 'Mr Nice': he's thoughtful, intelligent, sensitive, gentle, and open about everything. There's an element of timidity too, and perhaps for someone still so young who has everything to prove, he's probably a bit too timid.
When you wake up to this on the back page of @theheraldsun @brucekamau @MelbourneCity #MelbDerby pic.twitter.com/VTiHbnxJ6x — Victor™ (@nguituivictor) October 14, 2017
Now, though, there's an air of confidence about him; you can tell by the way he speaks to the media, and, more tellingly, by the way he has done most of the talking on the pitch. Prior to the derby, Kamau warned Kevin Muscat's men that their team was sharper, positive and looking to improve against their rivals. He backed it up and took fate into his own hands when it mattered most.
Joyce's philosophy has always been simple, on paper at least; he encourages his troops to not just win, but also to entertain. It takes a certain amount of confidence to fulfil the latter, and in the past, the likes of Paul Pogba – now one of the world's best playmakers – as well as starlet Marcus Rashford and Tom Cleverley have all benefited from his tutoring in the past. And so far, the same could be set for Kamau, who already looks fitter and there's a spring in his step in the way he plays. His decision-making is sound, and his movement into space is intelligent and crisp. The signs are good for a guy who harbours hopes of a European move.
"I thought that even before I came to the country, watching him play for Adelaide - I thought he was an outstanding player, to be fair," Joyce said. "Looking at players who you think could play in English football, he's certainly one that could play in the English championship, easily."
Luke Brattan too agreed: "I think he can be a fantastic player and if he keeps going the way he's going, he's not going to be around in the A-League much longer. He's definitely got the potential to go overseas and do well. But he's got a lot to learn. He's still young."
Kamau though, remains grounded: "I think that the league has gotten better. And it's more competitive now, so being a younger player and doing well enough to get yourself out there and noticed by a European club, it's maybe a bit harder than what it would have been when the league first started."
But still, the message is clear. Don't write him off. Don't laugh when he says he dreams of a move to Barcelona one day. Because following a blistering start to the season, there's a chance that he could eventually get there. And by that stage, it'll be Kamau who has the last laugh.
Talking points from Round 2:
Brisbane Roar 1-2 Adelaide United: Two matches in and the Roar are at the bottom of the table having lost their opening two matches. Their excuse – that the club eagerly awaiting the arrival of Eric Bautheac due to visa complications, is a poor one. If success is dependent on the arrival of one big-name player, than it seems things aren't going well up north to begin with.
Western Sydney Wanderers 2-2 Central Coast Mariners: On the day the Wanderers were held to a frustrating draw against the side that were thrashed last weekend, Tony Popovic secured his first win in Turkey. For Foxe though, the result could easily have gone the other way and improvements need to be made ahead of the Sydney Derby.
Newcastle Jets 2-2 Perth Glory: Ernie Merrick claimed the side played better against Perth than he did against the Mariners. He has a point too. Beating Kenny Lowe's side is no mean feat and had it not been several spurned opportunities, the scoreline could've been different.
Sydney FC 3-2 Wellington Phoenix: "Most clean sheets" and "Fewest goals conceded", read a tifo ahead of the match. The irony of that, of course, is the fact that the side failed to keep a clean sheet in a performance where the hosts defence looked off the pace for much of the game. A brace by Bobo was enough, though with Sydney maintain their winning start to the season.