Liverpool
Death threats leave Lovren playing under a 'black cloud' at Liverpool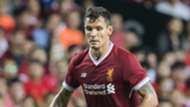 Dejan Lovren admits he is playing under a "black cloud" at Liverpool in the wake of death threats against his family.
The Croatian defender has been targeted by trolls on social media after seeing his performances for the Reds called into questioned.
Lovren is prepared to accept criticism of his own game, but has hit out at those to have taken aim at his family.
After receiving a message on Instagram which read "I'm gonna murder your family", Lovren responded by posting: "I don't mind when people talk sh*t about me, it says more about them. But I cannot ignore when my family is threatened. I just can't and won't accept that. Disgusting."
The 28-year-old has also faced further distractions off the field following reports that masked raiders allegedly attempted to break into his house while he was at Anfield for Liverpool's recent Champions League clash with Maribor.
Lovren took no part in that contest as he nurses an ongoing back problem, with the issues mounting for the centre-half as he endeavours to focus on his football.
He told Croatian publication 24Sata: "My condition? Let's say there have been better days.
"You simply cannot change what has happened in the past.
"I would just love to finally get that black cloud away from me, so things can get better.
"It's not easy for me. Maybe it's interesting for everyone else, but I guess it'll be better soon."
Liverpool supporters have sought to rally around Lovren during a testing period and offer him some respite.
Fans have voted the defender their Player of the Month for October, with that honour set to be shared with in-form forward Mohamed Salah.
Lovren is currently away on international duty with Croatia as they prepare to take in a 2018 World Cup qualifying play-off with Greece, with a spot at next summer's showpiece in Russia now dominating his thoughts.