Daniel Arzani
'Better than Hazard?'- Daniel Arzani still manages to impress despite injury in Celtic debut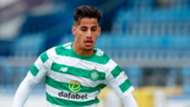 He may have been on the pitch for just 20 minutes before injury saw him stretchered off, but Daniel Arzani still managed to catch the eye in his debut for the Celtic first-team.
After two appearances for the Hoops academy side, the 19-year-old has gradually worked his way into Brendan Rodgers' plans and was thrown on in the 56th minute against Dundee in the Scottish Premiership with his side 5-0 up.
It took him just five minutes to impress as he picked out Kieran Tierney with a great pass only for his teammate to squander the chance.
Playing with his trademark confidence, Arzani continued to push forward and backed himself with the ball at his feet.
While his night out would end with him being stretchered off the pitch having twisted his knee, the young Socceroo left a positive first impression on the Celtic faithful.
— CeltsAreHere (@CeltsAreHere) October 31, 2018
— Dominik Diamond (@DominikDiamond) October 31, 2018
— seánfernie (@sean_fernie) October 31, 2018
— - (@Tam_Selleck) October 31, 2018
— . (@_Keegann) October 31, 2018
— Marty Strong (@MartyStrong88) October 31, 2018
— HEREWEGO10INAROW (@S_Russell_23) October 31, 2018
— O'Molloy (@Celtic_GLA) October 31, 2018
— Chris (@chris91q) October 31, 2018
In more good news, Arzani's injury doesn't appear to be too severe with Rodgers' easing concerns at the end of the match and praising his attitude since making the move to Scotland.
"Daniel looked as if he twisted his knee but didn't appear so bad as he waved to the fans at the end," Rodgers said. 
"He's a talented boy, just a bit adapting really to our style of football and to our game and he's settled in very very well.
"Just building up his confidence to come and play, just a bit unfortunate he had to go off. He certainly is happy to take the ball, he has confidence, he's a Celtic player in terms of, he wants to beat people and wants to be aggressive. So it was nice for him and Lewis Morgan to come into the game.
"He's a really really good kid, he's a super bright boy, he wants to do well for Celtic and we'll just have to see tomorrow - he's probably going to need a scan on his knee."