Transfers
VIDEO: Dancing his way to Man Utd?! This Griezmann advert is brilliant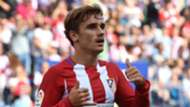 If you thought Antoine Griezmann's Hotline Bling celebration was only any use on the dancefloor or after scoring a goal, it's time to think again.
Scholes calls for Man Utd to sign Griezmann
The Atletico Madrid ace, who has been linked with a move to Manchester United in recent weeks, has proven in a new advertising campaign for Puma that he can cut his shapes anywhere to great effect.
Indeed, France international striker Griezmann, who has become one of his home nation's favourite footballers since his rise to stardom thanks to his exploits at Euro 2016, plays the role of superhero beautifully in the advert.
James Bond himself would be impressed with the 23-year-old's cocktail shaking technique, while Tom Cruise could not have pulled off his Top Gun cupid act any better.
There really isn't anything, it seems, that Griezmann can't turn to gold at the moment.