Cristiano Ronaldo
Cristiano Ronaldo: How many children does he have & what are their names?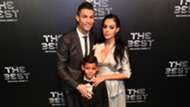 Cristiano Ronaldo is one of the most well-known and well-regarded footballers in the world, but his personal life remains shrouded in a great deal of mystery.
Understandably, the Real Madrid star has been protective of his family, but in recent times he has given his fans a glimpse behind the proverbial curtain through his social media channels.
As well as his football moments, social life and various commercial ventures, Ronaldo increasingly celebrates his growing family, sharing tender moments with his legions of followers.
Following the birth of his fourth child, Goal takes a look at Cristiano Ronaldo's family...
---
HOW MANY KIDS DOES CRISTIANO RONALDO HAVE?
---
Cristiano Ronaldo now has four children after his partner Georgina Rodriguez gave birth to a girl named Alana Martina. He has two boys and two girls.
The former Manchester United star became a father at the age of 25 when his first child, Cristiano Jr, was born in June 2010.
Ronaldo has never publicly revealed the identity of his first son's mother, but Cristiano Jr is a prominent figure in the star's life and he often appears by his father's side at award ceremonies.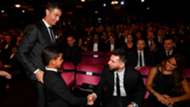 Indeed, Ronaldo is evidently very proud of his eldest son and has shared a number of videos of him playing football, prompting speculation that the youngster is set to follow in his father's footsteps.
In fact, in case there wasn't enough pressure on the kid, some bookmakers have even offered odds on Ronaldo Jr one day playing for Man United or Real Madrid.
Cristiano Ronaldo's twins
In June 2017, seven years after the birth of Cristiano Jr, Ronaldo's family grew by two as the Portugal international revealed new baby twins following his return from the Confederations Cup.
The twins, a boy and a girl, are reported to be named Mateo and Eva and are said to have been conceived with the help of a surrogate mother.
As with his first-born, Ronaldo is happy to show off his twin children and they regularly feature on both his Instagram and that of his girlfriend Georgina.  
Fourth child
Following the birth of his twins in the summer of 2017, there were murmurings that Ronaldo was set to welcome a fourth addition to his family.
Those rumours were eventually confirmed that the 32-year-old was expecting his first child with girlfriend Georgina. Details initially began to emerge about the pregnancy in July, with the couple announcing they were expecting a girl, with the name Alana Martina their choice in advance.
Georgina has now given birth to Alana Martina, with Ronaldo announcing the news in an Instagram post containing featuring a picture of himself, his girlfriend, eldest son and newborn daughter.
It remains to be seen whether there will be any further additions to the Ronaldo family in the future after he had previously expressed a desire to have seven children.