African All Stars
Could Sadio Mane's Senegal match 2002 vintage?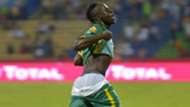 ---
COMMENT    By Solace Chukwu    

Follow on Twitter
---
Aside the apparent problems with weighting different footballing eras and trying to hypothetically transplant circumstances of the day from past to present, the most stringent opposition to comparing teams from different periods is an emotional one.
Much of that emotion stems from the simple fact that the work of the past is finished, and is considered sacrosanct: when looking back on a record-breaking team, for instance, the consideration of how much further it could have gone is often secondary to the sheer gravitas of the record. The present is ongoing, and now more than ever, is subject to continuous, pedantic review; it comes to be looked upon as unformed and, by extension, flawed and misshapen.
Understandably, that would make a comparison of eras between the Senegal side of 2002 and the present day come across as heretical. There is the small matter of achievement of course, the first recourse for every class action lawsuit against revisionary analyses of this kind, which skews heavily in favour of that crop starring El Hadji Diouf, Khalilou Fadiga and Henri Camara.
A first World Cup appearance was remarkable enough, but was made even more so by a barely credulous run to the quarter-final and, thanks to an inability to even so much as grace another Mundial since, has acquired mythical standing.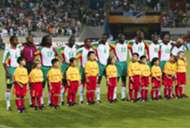 The only reason this is relevant now is that the Teranga Lions finally boast a group that is a worthy rival to that great team led by Bruno Metsu. They have already gone one better than the intervening vintages by securing qualification with a smash and grab in Polokwane on Friday, and while it would be an almighty task to recreate, another lengthy run in Russia next year cannot be ruled out willy-nilly.
This is a generation positively oozing quality, for one thing.
Not just quality by continental standards too: Kalidou Koulibaly is arguably world class, and with Kara Mbodji, they have a centre back pairing that handily surpasses Papa Malick Diop and Lamine Diatta. Salif Sane, Cheick Mbengue, Youssouf Sabaly and Lamine Gassama make up a defensive cast that does not look shabby quality-wise when held up against Omar Daf, Habib Beye and Ferdinand Coly.
It is the same in all departments of the team as well, although this group does lack the runners from deep in the mold of World Cup hero Papa Bouba Diop, who got forward farthest from midfield in 2002, to good effect against both France and Uruguay.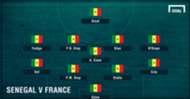 And if a David and Goliath style face-off between the totemic talisman on either side is more to the liking, there is the fact that, in Sadio Mane, Senegal have a player of true genius, less decorated but an infinitely more complete attacker than El Hadji Diouf. The latter's terrific talent never budded quite as fully, and perhaps combusted too hotly and too briefly in a ball of self-destruction and unprofessional behaviour.
One might say Mane impresses upon his side far more than Diouf did, and is as adaptable at a granular level as this team displays: able to play on the front foot as well as lie in wait, and more in touch with the general character. Diouf always seemed like the outstretched silver arm of an essentially energetic but functional body, one of steel.
Interestingly, the destiny of this team essentially lies in the hands of the group from 2002: Aliou Cisse, then captain, is now coach, as are the likes of Tony Sylva and Diatta. Therein lies the irony; that the past is what appears most likely to impede Mane and his mates not only figuratively, but literally.
It is in that crucial detail, the personnel in the dugout, that this team is significantly weaker.
The sense lingers that, while Cisse has done brilliantly to end the long wait, he does not have the chops to handle this much talent, to get them working along to a coherent plan and performing greater than the sum of their parts.
Senegal have lived up to their full potential only in snatches: their first half displays against both Tunisia and Zimbabwe at the Cup of Nations in January were frightening indicators of just how good this team can be, but they bowed out in the last eight following a hugely disappointing display against Cameroon.
When Metsu led Senegal in 2002, the identity was clear, as was the vision, and this clarity hothoused a perfect synergy. With Cisse and the 2002 Old Boys Association, there will need to arise some of that conviction and nous if arguably their most talented generation of players ever is to thrive and best their predecessors.