Antonio Conte
Conte not yet ready for contract talks as Chelsea continue title push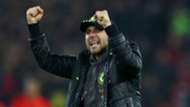 Chelsea boss Antonio Conte has dismissed claims from Italy that he is negotiating a new deal at Stamford Bridge, insisting he is solely focused on a Premier League title push.
Rumours: Mancini to Leicester?
The Blues go into their home tie against Swansea City on Saturday eight points clear at the top of the table, and it had been suggested that Conte had reached an agreement with Roman Abramovich to extend his stay in west London.
However, the 47-year-old wants to set an example to his squad, insisting he isn't interested in a contract renewal during an important end to the season, and that he, like his players, should remain focused on their upcoming opponents. 
"It's the same [for me] as my players," he said at a news conference at Cobham Training Ground. "Now I think it's important to think to the present, looking to the present and then when it will be the right moment we'll face every situation, for the players, for the coach.
"For sure when you start a job, when you start to work very hard, you hope to continue your work for a very long time to build something. For sure, this is my ambition and the ambition of the players, but this is not the right time to face this argument now."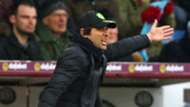 Conte's close friend Claudio Ranieri was sacked by Leicester City on Thursday, despite leading his side to a very unlikely Premier League crown last season, with top-tier clubs appearing to lose patience with their managers quicker than ever.
Conte admits that England is becoming more like Italy with managerial sackings becoming more commonplace during the season, though understands it is now the nature of the job.
"Yes, for sure [England is becoming less secure]," He added. "In Italy we are used to sackings and to live with this situation, and it's not easy. To know this [situation] makes you stronger.
Chelsea plot bid for Atletico's Oblak
"You are stronger because you try with all your strength to put 120% because you know your life could be very short. Now I see that in England it's increasing this situations in the [Premier] League, also in the Championship.
"I see that a lot of managers were sacked. This is our job. This is the risk of our job. We know this. We must work very hard to have good results, to try to keep our job. For sure our job is a job with great risk."