Opinion
COMMENT: The Victor Gomes show must come to an end!
South Africa Chief Editor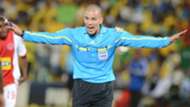 Friday night's thrilling game between Maritzburg United and Platinum Stars at the Harry Gwala Stadium was marred by another controversial call from match officials. 
The Team of Choice was awarded a penalty deep into stoppage time after Mohau Mokate went down inside box following a tackle from Charles Baloyi, and Andrea Fileccia stepped up to score the winner.  
In recent months, South African match officials have dominated the headlines than the actually players, and it cannot be right that they continue to steal the limelight for all the wrong reasons. 
Victor Gomes was the man in charge of Friday's match in the Pietermaritzburg, given his record, the majority of football fans have come to terms with the fact that he is controversial and has lowered the standards so bad that other referees are beginning to follow in his footsteps. 
What's more concerning is that these match officials are never held liable; they continue to officiate like nothing wrong happened even after some poor refereeing decisions; yet coaches lose their jobs and teams lose crucial points week in and week out.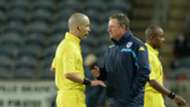 When coaches speak out against bad refereeing in their post-match interviews, they get sanctioned, but when are we going to have referees sanctioned for their 'mistakes' that sometimes look deliberate? 
Just a few weeks ago, Pitso Mosimane publicly voiced his dissatisfaction at the way Gomes handles his matches, but some thought the Mamelodi Sundowns coach was just being controversial.
As football fans, we want to talk about the good, the bad and the ugly of the game without worrying too much about referees, but this is often not the case. For instance, Riyaad Norodien scored a stunning free-kick for his third goal since joining Dikwena, but very few remember that as Gomes continues to dominate the headlines. 
Some would correctly point out that Gomes has been consistent with his decisions, but how long is he going to get away with it? Even when referees make the right calls, they always look suspicious because the standard of refereeing has dropped dramatically in recent years.
A bad precedent has been set and it's going to be difficult to do away with it if referees know that they cannot be questioned or even provide answers for some of their controversial decisions they make during matches. 
The majority of these bad decisions are not only based on their poor positioning, but their failure to put emotions aside and remain neutral at all times.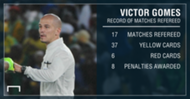 Football is a contact sport, and the best referees around the world understand that not every tackle warrants a foul, a penalty or even a yellow card for that matter, but with Gomes, South African fans, even the players, always expect more, and he hasn't disappointed. 
Opinions would differ, but a tackle on Mokate wasn't supposed to be a penalty. Gomes had rightfully waved play on because he was in front of the incident, but no, he had to change his mind after his assistant raised a flag to alert him that there was a tackle inside the box and that it had to be a penalty. 
Of course referees are allowed to change their minds, but their decisions cannot be influenced, especially if everything happens right in front of them, and this is what Gomes hasn't managed to get right. Hence, he always finds himself in the middle of controversies.
Just a week ago, Gomes awarded Bidvest Wits a penalty that wasn't supposed to be yet he was closer to the action than anyone else, and guess what? He got away with it, and Golden Arrows lost the match. This needs to stop, and the South African Football Association (Safa) needs to act before it's too late.
Wow Victor Gomes with another shocking call to give the penalty! @OfficialPSL @goldenarrowsfc1 #AbsaPrem pic.twitter.com/QiK3jFgcgP

— Baden Gillion (@BadenGillion) February 17, 2018
If Gomes doesn't award controversial penalties, he dishes out red cards to players, ball boys and team officials, including coaches, and this can't be going on like this because it's ruining the beautiful game of football.
A few days ago, Thando Ndzandzeka was the man in the middle between Sundowns and Free State Stars in Tshwane, and he denied the visiting team was a clear penalty in the closing stages of the game, and he also got away with murder. How long is this going to happen? 
Sundowns assistant coach Manqoba Mngqithi proposed that referees be given the microphone to explain some of the decisions they mak, and he was right because their mistakes send a message to aspiring football referees that making mistakes at a professional level is allowed. 
Actually thought #VictorGomes tried his best to stay out of the headlines...but his natural instinct kicked in to award the penalty and then send off Roger de Sa.

Another episode of the "Victor Gomes show" #AbsaPrem pic.twitter.com/TZNTZvGxYI

— Baden Gillion (@BadenGillion) February 23, 2018
I've been online the past 2 hours and all I'm seeing is Victor Gomes trending instead of Sundowns vs SuperSport. a Referee is trending more than a small clubs Derby

— Ta Mnini (@trevor_mnini) February 24, 2018
Victor Gomes must be sacked.

— 9Teenth and Just Juizik (@Muzi_Gambu) February 24, 2018
Penalty decisions should not be questionable or debatable, and if referees are to award them to any team at any given time, they should be sure that a certain foul warrants a penalty or a dismissal. 
Again, referees shouldn't be dictators. Coaches should be able to approach them and express their grievances without being threatened to be dismissed just because 'a referee's decision is final'.  
There can only be one Ian McLeod (may his soul rest in peace), and Gomes and Co. are nowhere near that level. The Gomes show must come to an end! Let football fans enjoy football without counting how many red cards and penalties referees dish out week and week out. It gives the South African football a bad image.