Baroka v Orlando Pirates
COMMENT: Telkom Knockout Cup win over Orlando Pirates just a start for Baroka
South Africa Chief Editor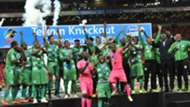 Baroka defied the odds as they stunned Orlando Pirates in the Telkom Knockout Cup final on Saturday night. 
The Limpopo-based outfit wasn't given a chance by almost everyone, especially because this was their first ever appearance in a final since gaining promotion to the elite league. 
However, it was always dangerous to underestimate them simply because Pirates had not been too fortunate in the competition. 
The Sea Robbers went into their ninth TKO final with a single trophy under their belts, and they needed a better game plan to emerge victors on the day. 
While Micho Sredojevic's left everything on the pitch after being reduced to 10 men barely 15 minutes into the encounter, Baroka should be commended for the way they handled the pressure. 
Wedson Nyirenda's men played like seasoned campaigners, and they didn't allow Pirates to intimidate them.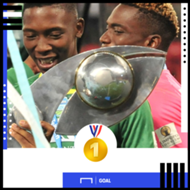 The fact that they took the lead twice means they went to Port Elizabeth with one thing in mind, and that was to lift the trophy. 
This statement though doesn't imply that Pirates didn't do enough to win on the day, but Baroka's hunger was just on another level. 
Also, Baroka defeated both Mamelodi Sundowns and Bidvest Wits in the quarter-finals and semi-finals respectively, and they knew exactly what they needed to do to topple the Buccaneers. 
One could also say that Pirates were set back by the early red-card they got. 
But in all honesty, Baroka were the better team even though they created fewer goalscoring chances than their Soweto opponents throughout the 120 minutes. 
Nyirenda and his team deserve to be celebrated for a job well done, more so because no one could have predicted a Baroka v Pirates final, let alone a team from Limpopo setting a new record of becoming the first team from the province to win a major piece of silverware.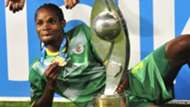 While winning the TKO trophy is a great achievement for any team in the PSL, this is just a start for Baroka. 
They now need to work even harder to ensure that this legacy doesn't become a thing of the past in the next few years by ensuring that they remain competitive and keep their PSL status for many years to come. 
Ajax Cape Town won this trophy twice between 2000 and 2008 under different sponsors, while Platinum Stars also won it twice - but both teams find themselves in the National First Division. 
Baroka came close to being relegated on two occasions in recent years, but they bounced back stronger to be where they are today, thanks to the appointment of Nyirenda, who left a huge mark in South African football as a player in the mid-90s. 
Keeping the squad motivated and the team competitive will be Baroka's biggest challenge going forward. 
Football fans around the country were impressed with how they stood their ground against the Sea Robbers on Saturday; and should they maintain the same standard in the league, even against relatively smaller teams then they will soon be unstoppable in the near future.