World Cup
Colombia vs England: Live blog, text commentary, line-ups, stream & TV channel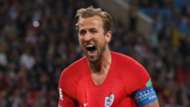 England beat Colombia 4-3 on penalties at the end of a pulsating encounter. Kane's penalty had given England the lead in the second half of a tense affair before Mina headed in Cuadrado's corner in injury time to send the tie to extra time. Both sides had their share of play in extra time but couldn't find a winner. England looked set for another penalty elimination as Henderson's spot kick was saved, but Uribe hit the crossbar and Pickford kept out Bacca's effort to swing the shootout back in England's favour. Dier then stepped out to score the decisive penalty to set up a clash with Sweden on Saturday.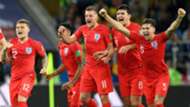 FULL-TIME: COLOMBIA 1 (3) - (4) 1 ENGLAND
ENGLAND ARE THROUGH TO THE QUARTER-FINALS!
---
SCORED: Dier steps up and coolly fires into the bottom left corner. England win, 4-3. They are going to the quarter finals.
SAVED: WHAT A SAVE! Bacca tries to go down the middle but the outstretched hand of Pickford keeps it out of the net. Advantage England.
SCORED: Excellent from Trippier. He drives it into the top left. Ospina went the right way but Ospina couldn't reach it. 3-3.
MISSED: Substitute Uribe steps up and fires his penalty straight into the underside of the bar.
SAVED: Henderson goes to the bottom right but Ospina finds himself equal to it, parrying it wide of the right post.
SCORED: Muriel sends Pickford the wrong way as he rolls the ball into the right of the goal, with Pickford diving the wrong way. 3-2 Colombia.
SCORED: Rashford fires into the bottom left corner. Confident strike from the Manchester United youngster.
SCORED: Cuadrado drives a powerful effort straight into the top left corner. Pickford dived the right way but he was never reaching that. 
SCORED: Brilliant from Kane as he rifles his shot straight into the bottom left corner. No chance for Ospina. 1-1.
SCORED: Cool as you like from Falcao, he powers his penalty straight down the centre. 
Here we go! Colombia are up first.
---
It is all square at the end of extra time as England could not make their dominance count. They had plenty of possession and upped their game but Colombia defended well. Penalties will now decide the outcome of such a tense encounter.
END OF EXTRA-TIME: COLOMBIA 1-1 ENGLAND - WE'RE GOING TO PENALTIES!
---
120+1 mins: Colombia's attack comes to the end and that should be that. Penalties are imminent.
119 mins: The set piece delivery is good again but Ospina flies off his line to punch the ball clear, with Maguire waiting behind him. England continue to push forward. One minute to go.
118 mins: It is all England in this second half and they continue to pour forward. Rose flicks the ball beyond Cuadrado but the winger brings him to ground. England free kick from another dangerous set piece situation. Cuadrado is booked for the foul on Rose, on the left touchline.
116 mins: CHANCE! Trippier's corner from the right is another excellent delivery, but Dier can only power a free header high over the bar. That was England's moment, he should have done much better the Tottenham midfielder. Arias is replaced by Zapata for Colombia's fourth and final change of the night.
115 mins: CHANCE! Vardy escapes Mina on the right and fires in a low cross towards the front post. Lingard arrives to meet it but it bounces just beyond him, allowing Sanchez to clear for a corner.
113 mins: Walker has a touch of cramp and Southgate is taking no chances. Rashford is on to replace him.
112 mins: CHANCE! Rose is slipped inside the left of the box and tries to roll the ball towards the far corner, but it curls just wide of the post. So close.
111 mins: Maguire finds Lingard inside the box with space but the ball just cannons off the leg of Lingard. England are playing with more positivity but Colombia are holding firm so far.
109 mins: Risky stuff from England as they pass their way out of the back. It works out though but Kane is eventually dispossessed by Mina in Colombia's half.
108 mins: CHANCE! Sanchez's clearance drops only as far as Lingard and he slots the ball through for Vardy. The angle is difficult for him and Mina is on hand to block the shot. They've started this half much better though, England. 
107 mins: CHANCE! Kane's pass finds Vardy with space inside the box, but the Leicester striker can only fire his first-time effort straight down the throat of Ospina. It wouldn't have counted anyway, as the linesman had flagged for offside.
106 mins: We're back underway!
---
Colombia dominated that first half of extra time and England are simply hanging on. Southgate's men are struggling to string more than a couple of passes together and that late Colombia goal has certainly appeared to knock their confidence. Colombia have not tested Pickford though and we are 15 minutes away from a penalty shootout.
HALF-TIME EXTRA-TIME: COLOMBIA 1-1 ENGLAND
---
105+1 mins: Colombia pile bodies forward and into the box as Falcao works the ball wide to Mojica, but this time the defender's delivery is straight out of play. There is one minute of added time to go
105 mins: It is still all Colombia and England just don't seem to have recovered from the shock of that late goal. Mojica fires in a wonderful cross from the left but Falcao can only fire his header wide of the left post, under pressure from Maguire.
102 mins: Young's night is up as Rose comes on to replace him. 
101 mins: Cuadrado's corner finds the head of Davinson Sanchez, but he can only direct his header wide of the left post. 
100 mins: Cuadrado whips in a cross from the right towards Bacca but his header hits off an England body and Colombia have a corner.
98 mins: England's turn to push forward but they don't seem eager to commit the numbers. Kane tries to play a ball over the top for Vardy but it is straight into the gloves of Ospina.
96 mins: Bacca is almost found free inside the box but Pickford gets off his line quickly to snuff the danger. 
95 mins: It is all Colombia at the moment. England are being pegged back into their own half and leaving Vardy up front on his own. 
94 mins: Worrying signs for England as Young appears to be moving gingerly over on the left of midfield. England do still have two changes available to them though, with one additional due to extra time.
92 mins: Mina is the first player to score 3+ headed goals in a single WC since Klose in 2002 (5).
91 mins: Extra-time is underway!
---
Colombia piled the pressure on at the end and England finally caved, as Mina's header brought Colombia level to send the tie into extra time. England never looked like scoring a second following Kane's penalty and tried to slow the game down and kill the game instead. England certainly have fresher legs following their rest for the Belgium game, so they will surely have the advantage in that sense in these next 30 minutes.
END OF NORMAL TIME: COLOMBIA 1-1 ENGLAND
---
90+6 mins: Harry Kane has been fouled 9 times today. The last England player to be fouled more in a World Cup game was Alan Shearer v Tunisia in 1998 (11).
90+5 mins: Five minutes of injury time are up and 30 more minutes of this tense tie are imminent.
90+3 mins: GOAL! 1-1!!!! Colombia have their equaliser as Mina rises high at the back post to head Cuadrado's delivery into the left corner. Vardy tried to head it off the line but he could not get enough on it. Colombia are back in it.
90+2 mins: CHANCE! Substitute Uribe rifles a half-volley from over 30 yards out and Pickford pulls off a magnificent save to tip it around the post. Colombia corner.
90 mins: Mojica whips in a cross from a deep position but it is over the head of everyone and out for an England throw. There are five minutes of additional time left to play.
88 mins: Sterling is replaced by Vardy, who will add a little extra energy to England's attack for the dying minutes. Quintero, who has been Colombia's best attacker of the evening, is replaced by Muriel for Colombia's final throw of the dice.
87 mins: SHOT! Falcao finds himself a bit of space outside the England box but he can only drive his low shot into the hands of Pickford. Time is running out for Colombia.
86 mins: Harry Kane's penalty goal is the only shot on target so far in the second half from either side.
85 mins: CHANCE! Colombia finally threaten as Quintero's cross from the right just misses the head of Sanchez and Falcao. It falls to Mojica on the other side who does find Falcao, but the Monaco striker can only head over the bar. 
84 mins: It is another good delivery from Trippier but Maguire's header is straight out of play. He should have done better.
83 mins: England are beginning to almost slow the game down just a little too much. Colombia are applying pressure with a lot more success now. Kane is the latest person to be robbed of possession, but he is brought down in the process. Trippier to deliver the free kick.
81 mins: First change for England as Southgate looks to shore up his midfield, with Dier replacing Alli. CHANCE! Walker dawdles on the ball and he is robbed by Bacca. Colombia find themselves in a three against two situation, but Cuadrado can only rifle his effort high over the crossbar. Huge let off for England and Colombia could be left to rue such a good opportunity.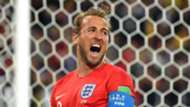 79 mins: Colombia make their second change as Carlos Sanchez is replaced by midfielder Uribe.
77 mins: Colombia begin to apply some serious pressure to the England defence but the men in red get it clear. England break forward through the pace of Sterling. He finds Lingard inside the box but it is well intercepted by Davinson Sanchez. Lingard wants a penalty but the referee waves it away.
75 mins: England with another free kick from a good crossing position. Young fires it towards the back post but Kane can not get to it. He was offside anyway so it wouldn't have counted. England continue to press forward for a second goal to kill the game.
73 mins: Young's corner from the left finds the head of Maguire but the defender can only head onto the roof of the net. England are continuing to be a threat from set pieces though.
72 mins: Great play from England! Alli brilliant pass cuts straight through the Colombia midfield and releases Lingard inside the box. He tries to find Kane who is free near the penalty spot, but Davinson Sanchez intercepts well.
71 mins: England are happy to keep the ball and invite Colombia onto them at the moment, as they try to take the sting out of the game. Colombia are pressing really high up the pitch, with Falcao and Bacca leading the line.
69 mins: Lingard is booked for pulling down Carlos Sanchez after losing possession in midfield.
67 mins:  England are starting to play with a bit more freedom in the final third now. Sterling links up well with Young on the left wing to release the United defender. Young whips in a decent cross but there is no one in a red shirt to meet it. 
66 mins:  Harry Kane is the first player to score in six consecutive England appearances since Tommy Lawton in 1939.
64 mins:  Bacca, who has only just come onto the pitch, is booked for needlessly clipping the heel of Stones. 
63 mins:  CHANCE! England have been a threat from set pieces all evening and they are at it again. Young's delivery is headed back across goal by Maguire but Colombia clear. It is chipped back into the box by Trippier and Alli can only head over the bar from four yards out. Falcao is the latest Colombia player to be booked as tensions among the men in yellow threaten to boil over.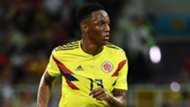 62 mins:  Attacking change for Colombia as Lerma is replaced by Bacca.  
60 mins:  Colombia controlling possession now and there is much more urgency in their play. A cross from the left is aimed for Falcao but it is headed away by Stones. 
58 mins:  Quintero, who has arguably been Colombia's biggest attacking threat in this game, tries an ambitious shot from 30 yards, but it is straight into a defender. The ball deflects to Carlos Sanchez inside the right of the box but Maguire is over quickly to see away the danger.
57 mins:  GOAL! 1-0 England!!!!! Kane steps up to curl his penalty straight down the centre of the goal, with Ospina diving to his right. England have their lead.
56 mins:  Henderson goes into the referees book as well, for dissent. The Colombia players continue to dispute with the referee.
54 mins:  PENALTY! Carlos Sanchez brings Kane to the floor and England have an opportunity from the spot. Carlos Sanchez is given a yellow card for pulling Kane down inside the box following a corner.
53 mins:  CHANCE! It is whipped in by Young from the left but Davinson Sanchez rises ahead of Kane to clear. England corner.
52 mins:  Arias is booked for an aerial foul on Kane. Set piece opportunity for England.
50 mins: ​ Lingard links up well with Henderson in the midfield but the Manchester United forward's pass towards Sterling is weak and easily cut out by  Davinson Sanchez. 
48 mins:  Trippier tries to add a bit of energy to England's attack but he runs the ball straight into Mojica. Tame start to the second half.
46 mins: The second half is underway!
---
We are minutes away from the second half, with a quarter final tie against Sweden the reward for victory. England have shaded the first half but neither side have really looking like causing the goalkeepers any trouble. England will need to avoid buying into the disruption of the Colombia players and getting heated and focus on improving their service towards Kane and Sterling. Colombia have defended well but will also need to find some quality in the final third if they are to break down this England defence.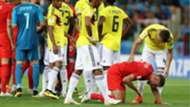 All square at the break of a half of football that threatened to boil over at times. England had the best of the opening 20 minutes but Colombia grew into the game. The closest thing to a clear cut chance fell to Kane but he could only direct a difficult header over the crossbar. Barrios managed to escape with only a yellow card after a headbutt to the chest of Henderson. It remains all to play for in the second half.
HALF-TIME: COLOMBIA 0-0 ENGLAND
---
45+4 mins:  Colombia try to add a bit of urgency to their attack but the linesman blows for offside against Falcao. 
45+3 mins:  CHANCE! A clearance falls into the edge of the Colombia box and Sterling arrives first to volley it towards goal, but he can only direct it over the crossbar. It wasn't the best height for the Manchester City forward but he will be frustrated to have not done better.
45+2 mins:  SHOT! Quintero finds space outside the box to shoot but he doesn't generate any real power on his shot, and it curls straight into the hands of Pickford. Better from Colombia though.
45+1 mins:  The fourth official has indicated three minutes of additional time.
45 mins:  SHOT! Kane tries a shot from around 25 yards out, but his low effort is far wide of the left post.
44 mins:  Quintero tries to release Mojica down the left wing but it is well over hit. They haven't really threatened the back three of England so far, really.
43 mins:  Raheem Sterling has had five shots at this tournament, three of which have come in the opening 30 minutes of this game.
42 mins:  SHOT! Trippier curls the free kick over the wall but it curls just wide of the left post. Not a bad effort but it was nothing to concern Ospina in the Colombia goal.
41 mins:  Barrios receives a yellow card after an altercation with Henderson in the Colombia wall. He can consider himself lucky as that could have easily been a red, as he appears to headbutt the England midfielder.
38 mins:  England have a free kick just outside the box, as Lerma brings down Kane. Good shooting position for England here, slightly to the left.
36 mins:  Henderson has not seen much of the ball in attacking sense but he finds some space here. He tries to find the run of Kane inside the left of the box but it bounces just behind the run of the Spurs man. 
35 mins:  Colombia have grown into this game as the first half has wore on and are starting to see plenty of the ball now. England are dropping deeper and closing the spaces in the final third for now.
33 mins:  The England throw goes straight to Falcao and he finds Quintero on the edge of the box. The winger releases his shot quickly but he can only drag it wide of the near post. A let off for England though, very poor throw.
32 mins:  Another England attack comes to a tame end. Davinson Sanchez tries to release Cuadrado on the right wing but it is straight out of play for an England throw.
31 mins:  Sterling finds a bit of space on the edge of the box but his shot is easily blocked by a defender. England come forward again but Barrios intercepts.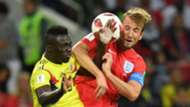 29 mins:  Alli tries to flick the ball into the feet of Lingard behind the Colombia defence but it is again well defended by the men in yellow. England are struggling to find a way through at the moment. 
27 mins:  Trippier fires the corner towards the penalty area but Lerma rises high to power a clearance towards the halfway line.
26 mins:  England earn another corner as Young's free kick finds Maguire at the back post. Davinson Sanchez gets there just ahead of him to clear the danger.
25 mins:  Since (and including) the 1966 World Cup final, 50% of England's knockout games at the tournament have gone to extra-time (7 out of 14). Three have been decided by a penalty shoot-out, all lost by England (Germany 1990, Argentina 1998, Portugal 2006).
23 mins:  Kane loses the ball on the left and Colombia come forward once more at pace. Cuadrado tries to find Quintero on the left of the box but it is cut out by Walker. The danger signs are there for England as Colombia are often finding spaces in behind.
22 mins:  Good reactions from Stones. Cuadrado's blocked effort falls to the feet of Falcao in the box, but Stones reads the forward's intentions well to nick the ball away from him. Great defending.
21 mins:  Alli finds the run of Sterling down the left but he miss-controls the ball as he tries to turn back inside. Goal kick Colombia.
20 mins:  England try to come forward again, working the ball wide to Trippier on the right. This time Mojica disposed of him though. Most of England's better attacks have come through the Tottenham defender in these opening 20 minutes.
17 mins:  Colombia with a spell of possession but England are keeping their defensive shape well. The Three Lions have certainly had the better of these opening stages so far.
16 mins:  CHANCE! Trippier with the delivery once again. His cross from the right finds Kane at the back post but the Tottenham forward can only direct his header over the crossbar.
13 mins:  CHANCE! Trippier's delivery is easily cleared but it comes back to Sterling on the edge of the box. He tries the shot but can only find the body of a defender.
12 mins:  England come forward again, albeit slowly. Mina holds Sterling back though and England have another free kick. It is more central this time, though.
10 mins:  Sterling tries to find Lingard inside the box but Barrios intercepts well for another corner.
9 mins: ​ Trippier's delivery is cleared by Carlos Sanchez and Colombia can break. Once again though, England do well to snuff out the danger. Colombia are bombing forward after every cleared set piece.
8 mins:  Trippier releases Sterling into the right of the box from a set piece, but Mina reads the danger well to block the shot for another England corner.
7 mins:  Young delivers the corner but it is straight into the gloves of Ospina. Colombia try to break forward on the counter attack through Mojica on the left wing, but he overruns it and Trippier can clear.
6 mins:  SHOT! Young tries to curl into the corner from the tight angle and it is punched away by Ospina. Trippier whips it back in towards the head of Kane from the right wing but it is cleared away for the first corner of the game.
5 mins:  England break beyond the high press of Colombia and Sterling is released down the left wing. He tries to turn inside Mina on the edge of the box but the Colombia defender blocks, handballing in the process. England free kick from a decent crossing position.
4 mins:  Trippier tries to find Lingard down the right of the box but it is easily mopped up by Davinson Sanchez, who also wins a free kick for his side.
2 mins:  England are happy to keep hold of the ball early on here and be patient with their build up. The Colombia fans are making plenty of noise as they vastly outnumbers the England support.
1 min: We're underway!
---
5 MINS TILL KO: The teams are out and the anthems are underway, kick-off is just moments away!
Colombia make two changes from their narrow victory over Senegal last time out. Rodriguez does not feature in the squad at all due to injury, with Lerma replacing him in the starting line-up. Uribe is replaced by Barrios in midfield.
England are back to full strength after making wholesale changes in their defeat to Belgium. Sterling and Kane return in attack, while Stones is the only player to have featured against Belgium. Henderson takes up a holding role in midfield, with Lingard and Alli playing ahead of him.
10 mins till KO:  There's not long left to go until kick-off, so let's have a look at how the two teams will be lining up this evening…
Colombia XI (4-3-3): David Ospina; Santiago Arias, Yerry Mina, Davinson Sanchez, Johan Mojica; Wilmar Barrios, Carlos Sanchez, Jefferson Lerma; Juan Cuadrado, Radamel Falcao, Juan Quintero.
Colombia substitutes: Jose Izquierdo, Oscar Murillo, Camilo Vargas, Mateus Uribe, Cristian Zapata, Carlos Bacca, Abel Aguilar, Farid Diaz, Jose Cuadrado, Luis Muriel.
England XI (3-1-4-2): Jordan Pickford, Kyle Walker, John Stones, Harry Maguire; Jordan Henderson; Kieran Trippier, Jesse Lingard, Dele Alli, Ashley Young; Raheem Sterling, Harry Kane.
England substitutes: Marcus Rashford, Eric Dier, Gary Cahill, Phil Jones, Jamie Vardy, Nick Pope, Danny Welbeck, Trent Alexander-Arnold, Danny Rose, Ruben Loftus-Cheek, Jack Butland.
15 mins till KO:  England are unbeaten against Colombia, having faced them five times previously (W3 D2). Their last encounter dates back to May 2005 in New Jersey. England won 3-2 thanks to a Michael Owen hat-trick.
20 mins till KO:  England manager Gareth Southgate deployed a second string side in their defeat to Belgium in their final group stage game, but are back at full strength tonight. Sweden's victory over Switzerland means England are now the highest ranked side left in their half of the knockout draw (12th), with Colombia the second highest (16th).
The Three Lions will now be amongst the favourites to reach the final, but will have to break their infamous record of only winning two of their last eight World Cup knockout ties. Their last victories came against Denmark in 2002 and Ecuador in 2006.
25 mins till KO:  Colombia are without star forward James Rodriguez after he went off with a calf injury against Senegal. The Real Madrid forward will be missed, as he has been involved in 10 goals in seven World Cup appearances for his country (six goals, four assists). Colombia will still have ample firepower to trouble England though, with the likes of captain Radamel Falcao, Juan Cuadrado and Jose Quintero in their line-up.
Colombia have scored in each of their last eight World Cup games, the longest current run of any team as of the end of the 2018 group stages. The last time Colombia failed to find the net in the tournament was in June 1998 against England (0-2).
30 mins till KO:  Colombia are featuring in the knockout stages of a World Cup for only the third time, progressing as far as the Quarter Finals in 2014, where they were eliminated by Brazil. Yerry Mina's late goal ensured they progressed from Group G at Senegal's expense, but face a tough task against a rejuvenated England tonight.
45 mins till KO: Hello and welcome to Goal's live blog of the Round of 16 clash between Colombia and England at the 2018 Russia World Cup.
---
Confirmed Team News
---
Confirmed Colombia XI: Ospina; Arias, Mina, Davinson, Mojica; Sanchez, Lerma, Barrios; Cuadrado, Quintero, Falcao
Colombia subs:  Izquierdo, Murillo, Vargas, Uribe, Zapata, Bacca, Aguilar, Diaz, Cuadrado, Muriel
Confirmed England XI: Pickford; Trippier, Walker, Stones, Maguire, Young; Henderson, Lingard, Alli; Sterling, Kane.
England subs: Jones, Cahill, Alexander-Arnold, Dier, Loftus-Cheek, Rose, Rashford, Vardy, Pope, Butland
---
TV Channel, Live Stream & How To Watch
---
In the United States (US), the game can be watched live and on-demand with fuboTV (7-day free trial).
New users can sign up for a free seven-day trial of the live sports streaming service, which can be accessed via iOS, Android, Chromecast, Amazon Fire TV, Roku and Apple TV as well as on a web browser.
In the United Kingdom (UK), the game can be watched live on TV on ITV   or streamed live online using the ITV Player.
| UK TV channel | Online stream |
| --- | --- |
| ITV | ITV Player |