Christian Pulisic
Christian Pulisic starts for Borussia Dortmund vs. Benfica in the Champions League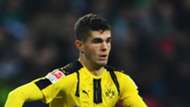 Christian Pulisic is in Borussia Dortmund's starting XI for the second leg of the club's Champions League last-16 tie against Benfica.
Raul on Pulisic: 'I love his game'
The American forward replaces Marco Reus, who left Dortmund's Bundesliga match against Bayer Leverkusen with a thigh injury shortly before halftime Saturday.
Pulisic, who has been fighting for a consistent starting job all season, made the most of his opportunity over the weekend, recording a goal and assist in a 6-2 victory.
Here is the full Dortmund lineup: Burki, Bartra, Dembele, Aubameyang, Pulisic, Sokratis, Piszczek, Castro, Schmelzer, Weigl, Durm.