World Cup
Chicharito wants Mexico's World Cup to inspire despite defeat to Brazil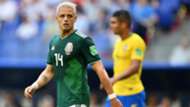 Mexico forward Javier "Chicharito" Hernandez believes El Tri's run in the World Cup can still inspire the people of his nation, even if it was cut shorter than they hoped. 
El Tri started their World Cup on a high note, stunning defending champions Germany 1-0, before defeating South Korea 2-1 to put themselves in a strong position to win Group F.
However, a heavy 3-0 defeat to Sweden would have eliminated Mexico had it not been for Korea's surprise 2-0 win over Germany, and sent El Tri through as runners-up. 
Instead of facing Switzerland, that sent Mexico on a date with Brazil, who emerged 2-0 victors on the strength of goals from Neymar and Roberto Firmino. 
Despite the final two matches, and Mexico's inability to get past the fourth game of a World Cup for a seventh consecutive time, Hernandez spoke of a desire to see El Tri's fans and general population begin to believe in themselves and the team.
The star forward pointed to the victories over Germany and Korea as positive steps, while also addressing Mexican democracy and the need to respect the country's new president, Andres Manuel Lopez Obrador, who is set to take office after Mexicans went to the polls Sunday.
'We lost, we're sad," Hernandez said. "Disillusioned, obviously, with a dream that was cut short. But Mexico continues on, Mexico is still on its feet. We have a lot of challenges in terms of football. We also have cultural challenges, but we have to keep changing the mentality. People keep talking about results, but it takes a deeper mentality than a lot of people want to have."
Chicharito's catchphrase saying Mexicans should imagine "cosas chingonas" was turned into a song by supporters and became a rallying cry for many. While El Tri fell well short of their goal to win the world title, he feels it's still worth it to dream and believe.
"I imagined myself as the champion of the world. This wasn't able to happen. I've always said, everything happens for something. The qualification was a process for something better," he said. "The most important thing is this union all of us Mexicans are showing despite all the negative noise that unfortunately is what draws more attention than the positive.
"What's important here is to show that every Mexican can break these limits that have been put on us since we were very little."