Chelsea
Chelsea can't be a one-man team with Hazard - Hasselbaink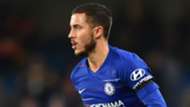 Jimmy Floyd Hasselbaink has warned Chelsea they cannot afford to be a one-man team with Eden Hazard if they want to be successful this season.
Hazard has been Chelsea's standout player so far this campaign, turning in a number of dazzling match-winning performances.
The Belgian is the club's top scorer with eight goals while no other Blues player has registered more than his four assists so far.
But as good as Hazard has been, the club will struggle to win trophies unless some of his team-mates step up and match his level of performance, according to former Chelsea striker Hasselbaink.
The former Netherlands international, who played for Chelsea between 2000 and 2004, cited the example of Mohamed Salah, who scored 44 goals last season in what ultimately proved to be a trophy-less campaign for Liverpool.
"For me it's a very bad thing if you become a one-man team," said Hasselbaink, speaking exclusively to 888sport.
"Hazard is magnificent and has been exceptional but if you look at last season with Liverpool, Salah scored so many goals and they became a one-man team as well. They didn't win anything. If you are a one-man team you won't win any trophies so others are going to have to step up. They have to step up and help him."
Hazard's displays at Stamford Bridge have not gone unnoticed with the forward continually being linked with a move to Real Madrid. The former Lille youngster has even previously admitted that a Real would be a 'dream' move for him.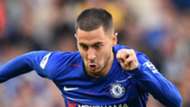 The 27-year-old's contract expires at the end of next season and he has yet to commit his future to Chelsea, meaning the London club may be forced to cash in on Hazard - either in January or next summer - or risk losing him for nothing the following year.
Hasselbaink accepts that Hazard may end up at the Santiago Bernabeu, but is hopeful Chelsea can convince him to stay by building the side around him.
"If the player wants to go he's going to go," he added. "He's been a great servant to the club and has done it the right way if he wants to go. But Chelsea should build a team around Hazard and not lose him. They need to get more stars on the same level as Hazard and be a force in England and Europe like what Man City are trying to do now."
Hazard's form has helped head coach Maurizio Sarri make a fine start to life in the Stamford Bridge dugout, even breaking a Premier League record by going unbeaten in his first 12 games in charge.
Hasselbaink is impressed with how quickly Sarri has managed to imprint his style on the Chelsea side.
"If you're a top club like Chelsea you have to try and play dominant football. You know you're going to have the majority of the ball, 60, 70 per cent and much of that needs to be played in the opposition half to suffocate the opponent. It wasn't like that last year and the year before.
"The year they won the title it was through counter-attacking football and often the other team had more of the ball even at Stamford Bridge. You can win the league with what Chelsea were doing in the transition, but in the second season you have to see a progression and that wasn't the case.
"Sarri has come in and changed that straight away. It has happened a lot quicker than people thought it would. And they are improving too, very dominant and have the ball a lot. Because of that you're seeing the smiles back on the players' faces again as well.
"There is still some improvement to make because against the big teams as they are only drawing. The next progression is to beat the big teams and especially at Stamford Bridge. Against Liverpool they drew and against Man United they were hanging on".
Despite their impressive start Chelsea only find themselves in third place, two points behind Liverpool and four behind leaders Manchester City, with both sides also yet to lose this campaign.
Plenty of pundits are tipping Jurgen Klopp's Liverpool to push champions City they closest this year as they seek a first title since 1990.
However, Hasselbaink disagrees and feels it is his former side who will go closest, though he acknowledges it will take a huge effort to overhaul Pep Guardiola's slick City outfit.
"I think Chelsea are still a little behind Man City. City have so much strength in depth and the Champions League is not affecting them. But if Chelsea can keep on improving and don't allow the gap to become bigger than it is now then you never know."
"With Liverpool they are not as fluid as they were. I don't know if they have enough to keep on challenging City and maybe they're suffering a bit from coming out of a big group in the Champions League.
Read the full 888sport interview with Jimmy Floyd Hasselbaink including his thoughts why Morata needs to be Morata to be a Premier League hit.