Bayern München
Challenge Yourself: Win a trip for two to this season's UEFA Champions League final, thanks to Nissan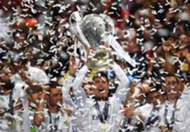 This is your chance to be at the UEFA Champions League final! 
Nissan and Goal have two pairs of tickets to giveaway to European football's showcase event in Cardiff. 
Launching again on Tuesday, our ultimate Champions League quiz welcomes you to challenge yourself by putting your football knowledge to the test. 
Your task to win is simple: Answer all 10 questions of this matchday's quiz, then add your score to the that of one of our football experts to boost your chances of winning. 
The experts: Your ticket to Cardiff
Jakkrit 'Tom' Yompayorm is a Barcelona fan, actor and TV host. 
Khairil Anuar is a Liverpool fan and the founder of the KV League.
Ronal Surapradja is a radio announcer and a Manchester United supporter. 
Firdaus 'Pipiyapong' Abdillah is a football analyst and Arsenal fan. 
Meet the experts in full on Goal.com
Which one will you choose to boost your score?
And don't worry if you're not successful this time around. You'll have the chance to enter our quiz for the first leg of the semi-finals to double your chance of winning!
Check out more UEFA Champions League Nissan content on Goal.com