Transfers
Celtic will not sell Moussa Dembele, insists Brendan Rodgers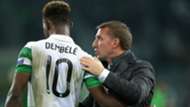 Brendan Rodgers has revealed that Celtic have received an offer for Moussa Dembele, but will not allow the forward leave.
The former Fulham striker has been linked with English Premier League sides; Brighton and Hove Albion, Everton and Crystal Palace.
Italian outfit AS Roma are also believed to be on his heels, should Edin Dzeko leave for Chelsea.
Dembele who joined the Scottish outfit from Fulham in the summer of 2016 has scored eight goals in 21 appearances in all competitions this term.
And the boss has stated that the striker who has two-and-a-half years left on his contract has never declared an intention of leaving the club and is 'fully committed' to the side.
"Moussa has never once asked to leave Celtic," Rodgers told Sky Sports.
"We brought him here as a talented young player at 19 and he has shown that talent.
"He has come in with a plan: his agent, himself and I know what the plan was but he has never asked once to leave. He is fully committed to Celtic.
"We have had one official bid for him that is nowhere near the value of what the value of Moussa is. But equal to that we have no interest in selling him.
"He is not a player for sale, he has two and half years left on his contract. He is an extremely talented young player.
"Naturally, we said a few weeks ago about a little bit of focus but it's only natural. But he has trained, he is working well, is working hard and he is available.
"That's as clear as I can be. In defence of the player, because it is important for supporters to understand, this is a boy that is fully committed to Celtic.
"He has been linked with so many teams so naturally, the mind can wander but he is a great boy.
"He won't be like what you see in some clubs and what you have witnessed before, where players down tools. It is not the case at all.
"He is a really good boy who we want to keep here and the only thing that would ever take him away is if he didn't want to be here and if that is the case then someone would have to meet his value and at this moment at time, neither is the case."