African All Stars
Celtic boss Rodgers charges Eboue Kouassi to step up in Scott Brown's absence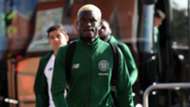 Celtic manager Brendan Rodgers has called on Eboue Kouassi to 'step out of the shadows' in Scott Brown's absence.
The 20-year-old has been limited to playing time since he joined the Hoops from Krasnodar in 2017 with just two league appearances this season.
Captain Brown has been a regular fixture in the Bhoys' set-up, thus, keeping the youngster out.
With the skipper out of action due to a calf strain, Rodgers has assured the Ivorian midfielder of more minutes ahead of their Uefa Europa League game against RB Leipzig.
"Browny's been a brilliant captain for me. It's unfortunate he's picked up this injury. But it's a great moment for people to step out of the shadows and show they can play," Rodgers was quoted by Daily Record.
"Browny's level of performance for two years for me has been exceptional. It's limited the number of opportunities for the likes of Eboue Kouassi.
"But he'll get a chance to come in now. He's shown at times when he's come in and played.
"Eboue's a good player. He shows me in training every day that he's a very good player. But he's been limited in his chances.
"I see some reports on him being a failure and all that. That's unfair.
"The boy's not had a chance. Why? Because the Scotland captain has been amazing in my time. Kouassi is a specific player, a defensive midfield player. Whenever Broony is out, there is an opportunity for him to come in and play.
"Kouassi has that quality, there is no doubt, but I try not to say to the players, 'This is your only chance'. You shouldn't see it as that. You're going to get opportunities. He doesn't need to put himself under any added pressure."
The Abidjan-born midfielder was introduced as a 72nd-minute substitute for Tom Rogic in Celtic's 4-2 defeat of Hibernian in Saturday's Scottish top-flight match.
And the former Liverpool boss is upbeat about the Ivorian's qualities in the middle of the park.
"I'm saying, 'We've got you here because we think you are a good player'. I've seen it enough times here from him. Eboue hasn't played enough games, but that's purely because of the form of other players — not because of him.
"When you do get the chance, of course, you want to go and show your qualities. He's a boy for that defensive midfield role. He's got good agility. His positioning is good. He is quick over the ground and is tenacious in the tackle. Kouassi can pass the ball. So he has all the profile to be a very good defensive midfield player.
"Has he been chapping my door asking to play? No. He's a very respectful guy. He's a young player so he wants to play, but he also knows domestically there are very few times I need two defensive midfield players.
"I normally go with one — and that one is the captain."