Transfers
Cape Town City reluctant to sell Lebogang Manyama to PSL clubs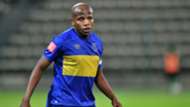 Cape Town City chairman John Comitis has confirmed a Turkish interest in Lebogang Manyama, and he's hoping they can finalise negotiations before the transfer window closes on Thursday.
"I know only of interest shown in Manyama by a Turkish club, which would be good for the player should the deal go through. He is a good player and capable of playing in Europe," Comitis told Daily Sun.
Comitis futher stated that Aubrey Ngoma will also not be sold to a local team, saying the player is focused on recovering from injury. 
"As for Aubrey, I know he is still recovering from an ankle operation and fighting to regain full fitness, but neither of them will be going anywhere unless a big European offer comes through," Comitis said.
Contrary to reports, Comitis said his star-studded duo have not handed in transfer requests, but added that Manyama is not in the right frame of mind hence his omission from Sunday's clash with Bidvest Wits.
"There is no such issue, no such letters came to my office," Comitis said.
"Look, Manyama is not in the right frame of mind at this stage. He is thinking about overseas offers and the coach has decided to give him his space. The coach has an understanding of players thinking when there is a possibility of an overseas offer," Comitis said.