Premier League
Bring back the Ghana Premier League, Muntari urges government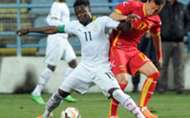 Ghana international Sulley Muntari has called for the return of the domestic league which has been suspended since last month's Ghana Football Association corruption scandal. 
The topflight, the FA Cup and all other football related-activities have indefinitely been put on hold after an investigative documentary exposed bribery and match-fixing activities of top FA officials and referees. 
"My problem is the fact that the league has stopped, which means all the kids and talent are at home doing nothing," Muntari, who is currently training with local giants Hearts of Oak, told TV3.
"How can we build the future if the league has stopped?
"They should do something about it, so hopefully the guys can get to play again."
With the GFA in the process of being dissolved in a move aimed at "sanitizing the system", an interim liaison team has been set up by Fifa/Caf to manage football in the country.
A normalization committee is expected to be established in the coming days, after which suspended competitions and matches will have a chance of resuming. 
"They should just start the league," Muntari continued. 
"The guys are at home, and the clubs are losing money every day, that is my concern.
"As for the other people and what they did, that's their problem.
"Some of the clubs are playing in Africa and this 'no league' situation affects them, so I want the government to do something about it."
The Premier League last saw action on June 6, same day the explosive documentary produced by renowned Ghanaian journalist Anas Aremeyaw Anas and his Tiger Eye Private Investigations team was first screened in Accra.