Goal United
Boxall: New Zealand won't just make up numbers at Fifa Confederations Cup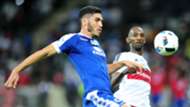 SuperSport United defender Michael Boxall, who could be part of the national team that will represent New Zealand at the 2017 Fifa Confederations Cup in Russia next month, believes they will stand their ground at the tournament.
"The Confederations Cup has some of the best teams in the world. Germany, Portugal and Chile is going to be a great experience given our group," Boxall told Goal.
The New Zealanders have been drawn in Group A alongside Russia, Portugal and Mexico. They will get the tournament underway on June 17 against the host nation (Russia).
"I think we stand a good chance to get out of the group. I think the first game is going to be a massive game," Boxall said.
"I think if we get three points in our first game it will back us up to go and get another point at least in the other two games. Typically, people think of Oceania football at the tournament to make up the numbers," Boxall added.
Under the guidance of Anthony Hamilton, Boxall believes the team has progressed extremely well to be able to stand their own at major tournaments like the Confederations Cup.
"Judging by previous results, it's hard to argue with that, but our coach, Anthony Hamilton, over the last couple of years has put us on a path to do well in these kind of stages. I think we have developed and come a long way as a team. We're definitely not going to make up the numbers. So, we're going there to do well as a team," Boxall concluded.