Young Africans
Boost for Yanga as five players return to training ahead of Simba clash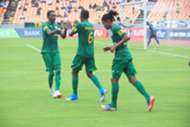 Yanga have received a huge boost ahead of their Sunday's Dar es Salaam derby tie against Simba as five first team players have returned to training.
The Jangwani club have had a lengthy injury list this season, with most of its players ruled out for one reason or another due to injury or illness for the several games.
However, with Yanga set to play the reverse fixture in the Premier League against Simba on Sunday, the club has been boosted by the return of five key players to training.
Papy Tshishimbi, Vincente Andrew, Ibrahim Ajib who had minor injuries have all been involved in recent training sessions conducted in Morogoro where Yanga have been camped, while also long term absentees Donald Ngoma and Amis Tambwe took part.
Tshishimbi, Ajib and Andrew were missing in the past three matches but are all set to return in the latest showdown.
Meanwhile, Tambwe and Ngoma have been out of action since last year after both being suffering knee injuries.
All five returned to first team training this week and could be in contention to return to the squad for the arch rivals tie or in the CAF Confederation Cup matches.