Kevin-Prince Boateng
Boateng speaks on Las Palmas extension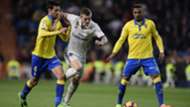 Ghana international Kevin-Prince Boateng is delighted to have extended his stay with Spanish club Las Palmas.
With an initial one-year deal set to expire at the end of the season, the 30-year-old has signed a three-year renewal agreement, which keeps him at Estadio de Gran Canaria until 2020.
"I will continue for three more years, I am very happy, we are all happy," Boateng told a news conference.
"I believe in this team and in the future and that's why I want to be part of this and help the club to grow with my experience.
"I had a difficult previous year so this was an important season for me. I didn't expect to have such a good campaign because I was at a new club.
"Next year, I want to make more goals and give more assists, I am very happy in Gran Canaria."
Having hit 10 goals in 28 league matches involving 25 starts, Boateng had emerged as a top transfer target for a host of teams.
High on the list were fellow La Liga club Valencia, who had hoped to price the attacker away.
"I had three teams that were very interested in me," Boateng revealed.
"Money is important but it is not everything.
"For me, it is much better to train well and be happy having less money and in UD Las Palmas, I am very happy.
"I just need to have my family closer, otherwise I have everything to be happy."
Boateng, also with four assists this season, has played for English clubs Tottenham Hotspur and Portsmouth, AC Milan in Italy as well as Schalke 04, Borussia Dortmund and Hertha Berlin in Germany.