WAFU Cup of Nations
Black Queens coach Mercy Tagoe: Ghana aiming for the stars in Wafu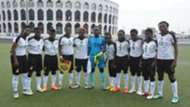 The Ghana women's national team coach Mercy Tagoe-Quarcoo is eyeing another title at the upcoming West African Football Union (Wafu) Zone B competition in Abidjan, Cote D'Ivoire.
The former international led the Black Queens to clinch the title at the same venue last year and she is hoping to repeat that feat.
"As champions, we cannot go and expect anything less than or lower than what we achieved last year. We went there without being given a dog's chance but we won it and I believe we can work hard to retain that title," Tagoe told Graphic Sports.
"We are aiming to reach the stars and will work hard and fight to achieve that. We know the journey will be rough and difficult but we are determined to succeed."
Ghana have been pitted against top favourites Nigeria, Mali and Guinea in Group B, while Group A houses hosts Cote d'Ivoire, Niger, Senegal and Benin.
"As part of our daily discussions, I have asked the girls not to be complacent as it won't be easy right from the group stages. Mali are in there as well as Nigeria. To be able to defend the title, we will have to qualify from the group stages and we must prepare well for that," she said.
Tagoe is expected to name her final roster for the tournament on Thursday, a day before their departure for Abidjan.