Friendlies
Benni McCarthy demands Safa to get its communication lines with overseas contingent in order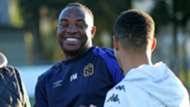 Cape Town City coach Benni McCarthy believes it is high time Safa put better and convenient communication lines with the country's overseas-based players in place.
"I think people need to sit down with the player, the club that he plays for and our national football governing body (Safa) and come to an agreement or an understanding," McCarthy told IOL.
Thulani Serero made headlines recently on the eve of Bafana's crunch World Cup qualifiers with Senegal, when he said he will only honour the call-up if he is guaranteed game-time.
In the past, Kermit Erasmus categorically stated he is not a 'back-up' player after he was set to replace Tokelo Rantie for a 2017 Afcon qualifier.f
The latter also refuted a call-up for the Senegalese clashes after he was not included in the team's 3-1 win over Burkina Faso in October.
"They need to discuss the way forward that will benefit club, country and the player," McCarthy outlined.
"If there's no communication there's always going to be the situation where players don't honour call-ups, and then players are villains or vice-verse. I think that needs to change," McCarthy added.
The country's all-time leading goal-scorer refused to directly dwell on the Serero scenario, as his main focus is on the Citizens.
"My issues with Bafana Bafana was my issues with Bafana. I don't know Serero's situation. You are journalists, you guys find numbers, you can find numbers and ask him.
"It's not for me to talk about Bafana, Serero, Stuart Baxter or anybody. My worry is Cape Town City and the problems that I have at the moment," McCarthy stated.