Super League
Mora determined to win his first game in charge of JDT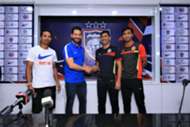 ---
BY         NIK AFIQ        Follow on Twitter
---
The new head coach of Johor Darul Ta'zim (JDT), Benjamin Mora stated that he won't be making any major changes ahead of their Sultan Haji Ahmad Shah Cup clash against Kedah on Friday.
Having just been appointed as former head coach Mario Gomez' replacement mere days before the game, Mora said the team are ready for the game, and he may only undertake some minor changes, believing that his players are ready to go and win the game.
"For now my focus is on the mentality. Trying to feel what it's like to feel as a player going into the game and give them the moral support.
"The players know that this is the final. There won't be any major changes. This team are ready and they will give their 100%," he said during the match press conference on Thursday.
Mora insisted that despite having taken over from Mario Gomez, the coaches are there only to guide the players and it is the players that will fight for the team.
"This team have been playing a lot under Gomez. He has left a legacy in this team but Mario and I are only here as guidance.
"The players are the ones who fight for the team. I only give them support. Maybe I would give two or three options to strengthen the team, but it's the players that are most important," he explained.
When asked about their opponents Kedah, Mora admitted that the Malaysia Cup champions are a good team, but insisted that JDT will do their best to win the trophy.
"Kedah are a good team. I know them because JDT II played against them last year. They like to play with the ball and they have some changes in the team so let's see tomorrow.
"We know that every team wants to beat JDT because we are the champions. But I think Kedah need to know that we will give our best, especially since we are playing at our home ground," added Mora.
Mora also shared that the team is currently injury-free, and all of his players are fit to play against Kedah.