Primera División
Beckham one of the best free-kick takers ever, says Roberto Carlos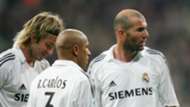 Former Real Madrid and Brazil defender Roberto Carlos has named David Beckham amongst his top three best free-kick takers ever, describing his technique as "phenomenal".
The pair played together whilst at Real Madrid between 2003-2007, winning one La Liga title and the 2003 Spanish Super Cup.
Both players built a reputation as the finest set-piece takers in Europe, and Roberto Carlos believes Beckham is one of the best he has ever seen.
"At Madrid with Beckham and Zizou, Roni, Ronaldo would also come but he's never scored one goal against me in his life so we got rid of him," Roberto Carlos said, speaking at Betsafe Star Sixes 2017. "The top three are Beckham, Zidane & Diego Maradona.
 
"I didn't study any of them, but I played many years with Branco, and yes I do think Branco was my teacher," Roberto Carlos added. "He taught me how to position myself, where to put the ball, where to aim for, how to keep the quality in the kick and so that's why I think Branco was my teacher.
"But of course I saw Maradona take free-kicks, and Beckham he's phenomenal at free-kicks and Zizou with his elegance in taking free-kicks."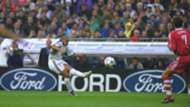 Roberto Carlos earned the nickname 'Bullet Man' while at Real Madrid due to the velocity of his strikes, with his seemingly impossible, long-range free-kick against France still one of the most famous to have been scored.
And Roberto Carlos believes success is all in the preparation.
"The secret is to train. Train every day, half an hour, 40 minutes, not too much or your legs will start to feel heavy but you should train to kick the ball in all directions and this requires training every day.
"I think that the strength comes down to your own, what you have to do is train every day and to make sure you put the ball between the posts, you can kick the ball whichever way you want to but the quality of it is down to you – so train every day to place the ball in the right place and, of course, it helps to have a bit of technique. 
 
"I've spent 26 years playing football, 26 years always staying on after training – we would always put the goals up and we would start hitting the ball and before you knew it half an hour, 40 minutes would have passed and we would always put a bet on it, it would cost a lot, the loser would buy dinner."
Roberto Carlos made over 800 appearances during his trophy-laden career and remains one of Brazil's most-capped internationals with 125 Selecao appearances to his name.
And, while the 44-year-old is unable to select just one standout moment from his 26 years as a player, he has highlighted a particular memory which holds great importance to him.
"The last 26 years of my career have all been great," he added. "From the time we lost the European Cup or the World Cup, these are all moments that teach you something, you have a lot of responsibility of course.
"I honestly can't tell you that this or that has been the best, my entire career has been great.
"One of the best moments was playing for this small team in Brazil called União Sao João – the first match was the best, the most interesting, I loved it."
Carlos was speaking exclusively to Betsafe Star Sixes. For all the odds and betting markets on England vs Brazil,  please click here