Alex Ferguson
'Be strong boss' – Man Utd captain Carrick leads Sir Alex Ferguson well wishers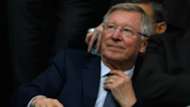 Manchester United captain Michael Carrick has led the tributes to iconic manager Sir Alex Ferguson, who is in intensive care after undergoing emergency surgery on Saturday.
The Red Devils released a statement that confirmed the Scot, who spent 27 years at the helm of the Old Trafford club, had suffered a brain haemorrhage .
The operation is said to have proceeded "very well" and in the aftermath a flood of tributes poured in for the 76-year-old.
Among those most touched by his illness are current and former United playing staff, particularly those who had worked under the former Dunfermline, Rangers and Falkirk striker.
My thoughts and prayers are with you, my dear friend. Be strong, Boss! pic.twitter.com/kmih28Xpsq

— Cristiano Ronaldo (@Cristiano) May 5, 2018
Get well soon Boss. Thoughts with all the family at this sad time. #AlexFerguson

— Wayne Rooney (@WayneRooney) May 5, 2018
Absolutely devastated to hear about Sir Alex being unwell in hospital. All my thoughts and prayers are with him and his family. Be strong Boss xx

— Michael Carrick (@carras16) May 5, 2018
Thoughts and prayers sir alex

— Jesse Lingard (@JesseLingard) May 5, 2018
Gutted to hear the news tonight about Sir Alex. Don't really know what else to say other than thoughts and prayers with you and your family, Boss

— Ashley Young (@youngy18) May 5, 2018
Sending my love and best wishes to sir Alex

— Luke Shaw (@LukeShaw23) May 5, 2018
All my prayers and thoughts as well are with him and his family!! Be strong boss!!!! https://t.co/Tbvw2fEhEt

— Chicharito Hernandez (@CH14_) May 5, 2018
His former clubs were also quick to wish the iconic manager a speedy recovery.
Sir Alex Ferguson has undergone surgery today for a brain haemorrhage. The procedure has gone very well but he needs a period of intensive care to aid his recovery. His family request privacy in this matter.

Everyone at Manchester United sends our very best wishes. pic.twitter.com/SDoNzMwVEZ

— Manchester United (@ManUtd) May 5, 2018
The thoughts and prayers of everyone connected with Aberdeen Football Club are with our former manager, Sir Alex Ferguson and his family following tonight's news. pic.twitter.com/Y20wWRzDy0

— Aberdeen FC (@AberdeenFC) May 5, 2018
Everyone at #DAFC is thinking of Sir Alex Ferguson at this difficult time. pic.twitter.com/tFBc74whmI

— Dunfermline Athletic (@officialdafc) May 5, 2018
Everyone at St Mirren sends our best wishes to Sir Alex Ferguson and pray for a speedy recovery. pic.twitter.com/pZHs2wCACB

— St Mirren FC (@saintmirrenfc) May 5, 2018
Best wishes to former Saint Sir Alex Ferguson from everyone at St Johnstone Football Club. We are all hopeful of a full and speedy recovery for you.

— St. Johnstone FC (@St_Johnstone_FC) May 5, 2018
But it was not just those that Ferguson worked with who were eager to pass on their well wishes – those who came up against the Scot, and some who just knew him by his legend, also wanted to express their desire to see him on his feet soon.
We're all thinking of you, Sir Alex. pic.twitter.com/2K14ZPKFMk

— Arsenal FC (@Arsenal) May 5, 2018
This evening, everybody at Chelsea FC sends our best wishes to Sir Alex Ferguson for a full and swift recovery following emergency surgery.

— Chelsea FC (@ChelseaFC) May 5, 2018
Very sorry to hear the news that Sir Alex Ferguson is seriously ill in hospital. Wish him all the very best.

— Gary Lineker (@GaryLineker) May 5, 2018
So sad... All our prayers for you Sir Alex

— Benjamin Mendy (@benmendy23) May 5, 2018
Hang in there Sir Alex. Thoughts are with the family and close ones.

— Vincent Kompany (@VincentKompany) May 5, 2018
Everyone at Sevilla FC wants to send their best wishes and strength to those close to Sir Alex Ferguson at such a difficult time. If there's anyone out there with the spirit to pull through it's Sir Alex. Fuerza!

— Sevilla FC (@SevillaFC_ENG) May 5, 2018
All my thoughts are with Sir Alex Ferguson. I wish you a full and speedy recovery. Stay strong!

— Unai Emery (@UnaiEmery_) May 5, 2018
My best wishes to Sir Alex Ferguson for a full and speedy recovery following his emergency surgery today.

— Simon Mignolet (@SMignolet) May 5, 2018
Get well soon Sir! pic.twitter.com/draA2BhBbl

— Santi Cazorla (@19SCazorla) May 5, 2018
Sir Alex wishing him well @ManUtd

— Michy Batshuayi (@mbatshuayi) May 5, 2018
Deep thoughts and best wishes Sir Alex Ferguson @ManUtd https://t.co/l0cK0H7teD

— Didier Drogba (@didierdrogba) May 5, 2018
Ferguson won 13 Premier League titles with the Red Devils, five FA Cups and two Champions Leagues, among a host of other trophies.