South Africa
Baxter targeted by Safa to take over Bafana Bafana reins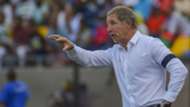 The Englishman has been doing a remarkable job with the Tshwane side as they sit comfortably amongst the league's front runners and on-course for a fourth league title.
On the other hand, the football association's search for Shakes Mashaba's successor appears to be a difficult one for them.
Although there have been names coming forward, the likes of Carlos Queiroz, Herve Renard and Hugo Broos seem to be out of the running.
It was said that a new man would be unveiled by this week Tuesday the latest. But to no avail, with the agent of Broos slamming the country's motherbody for the manner in which they handled his client's application. Safa's either not interested in Broos or are taking too long to contact him.
So they turn to Baxter for a return to the side, with the same man who brought him to the country in 2004, Danny Jordaan now calling the shots.
As of now, Owen Da Gama has been placed in temporary charge for their upcoming friendlies against Guinea-Bissau and Angola at home.
Meanwhile, Mashaba's legal representative Claudio Bollo has revealed the new dates for their arbitration hearing which is set for the 6th, 7th, 10th and 11th of April.
The hearing with the Commission for Council, Mediation and Arbitration (CCMA) pertains a case of unfair dismissal from Mashaba which the latter and his legal representatives brought to the CCMA after his dismissal in December.