Videos
Battle of the Brands: Jesus paints the town or animated Ronaldo - The World Cup semi-finals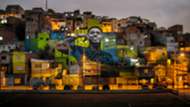 Your votes have been counted and the semi-finalists are in. 
It's Adidas versus Nike, Coke versus Budweiser – the big boys are here and they came to play.
We asked you which brands were making the biggest impression around this year's festival of football and now the time has come to whittle it down to a final two. Each brand has produced unique pices of content for you to enjoy but which brand got it right? 
We've got a thrilling semi-final line-up - and we want you to decided their fate.
---
ADIDAS VS NIKE
---
It's a heavyweight battle between the two leading sports brands in our first semi-final, with global superpower Adidas going up against Nike.
"At the end, I owe my creativity to Jardim Peri. It's what got me here."

Four years ago, @gabrieljesus33 painted the streets of Jardim Peri.
Now, those same streets are painted to celebrate him. #HereToCreate pic.twitter.com/odqpSC4q2v

— adidas Football (@adidasfootball) June 16, 2018
Adidas are telling the remarkable personal story of Brazil star Gabriel Jesus, who was leading the line for the five-time world champions in Russia before coming up against the formidable Belguim. Four years ago, he spent the World Cup painting the streets of Sao Paulo. Come 2018, he is the one being painted.

Believe. #justdoit pic.twitter.com/PquQb22dCZ

— Nike Football (@nikefootball) June 20, 2018
Nike, meanwhile, may not be an official sponsor of this year's tournament but have utilised Cristiano Ronaldo to more than make up for that. The Portugal forward appeared in animated form as his free-kick taking was championed by the brand, a fitting approach which foresaw his heroics against Spain in his side's opening match.
---
BUDWEISER VS COKE
---
The other semi-final features the two biggest beverages on the World Cup block, as Budweiser take on Coke.
Nigeria (@BudweiserNG) July 4, 2018
Budweiser asked for fans to send in their best reactions to the football during the tournament. With the ups and downs of this breath taking competition so far, there have been some memorable reactions shared. 
Coke, meanwhile, kicked off their campaign early with the ambitious FIFA World Cup Trophy Tour by Coca-Cola, taking the most coveted prize in world sports to no less than 91 cities across 51 countries and six continents.
Now it's down to you. Fill in the survey below to tell us who should make the final!
document.write('');