KPL
Bandari FC players yet to recover from gun drama after Zoo Kericho match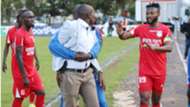 Bandari might consider hiring the services of a psychologist to help their players cope with the chilling incident where a fan threatened to shoot the players after a league match with Zoo FC.
According to a source, who spoke to Goal but did not want to be named due to the sensitivity of the matter, Bandari players are yet to recover from the trauma following the unruly behavior of an Administration Police Officer, who is attached to a member of Parliament.
The police report indicates that the rogue policeman acted in 'defence' to protect his firearm after he was allegedly 'roughed up' by Bandari players after he made a comment to the effect that Zoo could have won the match had the 'game continued for five more minutes'.
Even though Bandari are expected to release a statement on the matter on Tuesday, almost 68 hours later after the incident had taken place, last Sunday, the club insist that they are still coming to terms with the reality of the 'insecurity' in Kenyan football.
"We were shocked. Our players were shaken after the game. Some even found it hard going out for shopping. We might have to consider bringing specialists to talk to them," said our source.
Bandari Team Manager Wilson Oburu said that the club will release a detailed report to the media, through the right channel.
"We are doing our report and we will send to FKF and KPL, who will then release it to the media. That is the right channel. This is an emotive issue I wouldn't want to comment about it, at this stage," Oburu told Goal. 
The gun-wielding officer has since reported the matter with the Police under OB number 21 of 17/9/1018. "...while at Kericho green stadium where he had gone to watch a football match between Bandari Fc and Zoo Fc, he was roughed up by Bandari Fc players when he commented that, if the game had proceeded for another five minutes, the Zoo Fc of Kericho could have won.
"In the course of being roughed up by the Bandari players, he nearly fell down and somebody took the photos of him as he tried to secure his service firearm from falling off or being snatched from him," reads the statement from the Police that has been obtained by Goal.