Nigeria U17
Bala Nikyu reappointed as Nigeria U17 women coach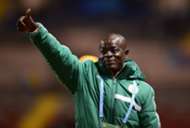 Bala Nikyu has been reappointed head coach of Nigeria U17 women's team by the Nigeria Football Federation.
Nikyu returns for his third stint in charge and he will be assisted by Toyin Ayinla, Ajuma Peter Otache, and Christian Obi will serve as goalkeepers' trainer.
With only three weeks to face Ethiopia, he is expected to lead the Flamingoes to subdue the East Africans in December's U17 World Cup second round qualifiers.
Confirming his appointment, chairman of the NFF Technical and Development Committee, Yusuf Ahmed said: "Nikyu and his assistants will open the team camp early this week [Tuesday or Wednesday]. They know what is at stake and will give their best to raise a team that will do Nigeria proud not only in the qualifiers but the global championship proper."
Nikyu and his technical crew will be hoping to see off the Ethiopians for a spot in the World Cup finals in Uruguay from November 12 to December 1, 2018.