World Cup
Badu denies taking a swipe at Appiah after snub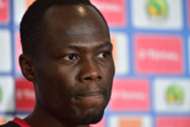 Emmanuel Agyemang Badu has rejected suggestions that his social media post on Monday 'you cannot retire a king' was a direct attack on Black Stars coach Kwesi Appiah, after he was omitted from the 24-man squad for the 2018 Fifa World Cup qualifying against Congo.
Badu, who joined Turkish giants Bursaspor on loan last month from Udinese, believes people want to create problems between coach Appiah and himself.
"I've been prompted of articles and fabrications about me circulating that I'm angry with Ghana coach Kwesi Appiah because I wasn't called for the World Cup qualifiers against Congo. I've not spoken to anybody and that reports are untrue," Badu said in an interview with Otec FM.
"I only made a post on Instagram that you can't retire a king which was in reference to a jovial comment by a friend called Enoch and he even replied me minutes later. Therefore, I don't know why people are twisting issues to suit their agenda. They just want to create problems between me and the coach.
"I've been with the senior national team for the past nine years and I've paid my dues so if the current coach want to try new legs, why must I be angry and take a swipe at him?
"In any case, the national team doesn't belong to me or any of my family members so I'm well aware that any Ghanaian who deserves a call up will have the opportunity," he said.
He added: "I'm not angry with anyone but whoever crafted those stories must be aware that his agenda won't help Ghana. I'm wishing the players in camp all the best ahead of Friday's game as well as the return leg."
Badu, who made his senior national team debut in 2008, boasts of 76 appearances and 11 goals. He was part of the Black Stars squad that participated in the 2010 and 2014 World Cup tournaments.