AFF Championship
Azam wants to establish place in TCH's squad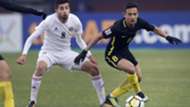 When Malaysia lost to Kyrgyzstan despite putting up a gallant fight, it was obvious the team was lacking something in central midfield. The litlte bit of creativity and ingenuity to unlock a defence that was not present in the partnership of Syamer Kutty Abba and Kenny Pallraj.
Many knew of Nor Azam Azih's qualities in his performances for Pahang in the domestic league as well as for the Under-23s in regional competitions but the worry was that he could be short on fitness and as such, missed out on previous call-ups.
However now that Tan Cheng Hoe is going into the final stretch of his preparations towards the 2018 AFF Suzuki Cup, Azam has been added into the squad as Tan and the rest of his coaching staff assess his suitability to the team.
"I will try my best to quickly adapt to the team because this is my first call-up from the coach. I want to show that I can play with for the team. The tactics with Pahang are a little different of course but I'm more than happy to follow any tactics. As for Sumareh, of course I'm familar with his playing style." 
"The team right now is perfect because of the understanding between the players who have been in the squad for some time now, but it's up to me to prove that I deserve a place in the team," said Azam in an article published on StadiumAstro.
If he proves his fitness to the team, there's no doubt that Tan will select him for the final squad of 23 players that will play their first group match away to Cambodia. For there's no other player in the team that has the guile and eye for a pass as Azam possess.
Should that be the case, Malaysia's chances of doing well in the competition may just have been increased and fans could even realistically target Malaysia to go deeper in the competition.
Follow Goal Malaysia on Instagram