Transfers
'As long as he doesn't want too much money' - Manager replies to Usain Bolt rumours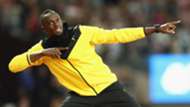 Burton Albion manager Nigel Clough has rubbished suggestions that the club are set to offer eight-time Olympic gold medallist Usain Bolt a trial at the club. 
Brewers chairman Ben Robinson previously claimed he was interested in signing the 30-year-old on the back of his retirement from sprinting, challenging the Jamaican to transfer his enthusiasm and dedication from track and field to football.
Burton 500/1 to win the Championship
And while Clough has ruled out an official move for Bolt, he conceded he would at least add some pace to the Championship side if he were to join.
"I didn't know he [the chairman] picked the players, he'll have to come down and spend ten minutes in the technical area and see how he goes," he told Sky Sports following the club's 2-0 defeat on Tuesday evening.
"Would that be a loan or permanent? I'm not quite sure. He would certainly add some pace.
Martial warned against Inter move
"As long as he doesn't want much money I'm sure we will be OK."
Robertson, hearing of Bolt's ambition to fulfil his dream as a footballer, invited the Olympian to the Pirelli Stadium to work under Clough, previously telling the Sun: "I'm sure we would offer a trial, and that the manager would. He's quick, if nothing else.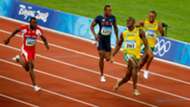 "He's done great things for athletics and if you look at Adam Gemili, who was in the 4x100m relay, he played football when he was younger. We would be very interested, obviously.
"He's done a tremendous amount for his sport. If he can apply the same amount of enthusiasm and dedication to soccer then who knows what might lie ahead."
Speculation only grew when Bolt's agent, Ricky Simms, revealed the sprinter "has a million opportunities" to achieve his aim of becoming a professional footballer.
"Usain is 30 and could still race for another four years and go to the 2020 Olympics but he has achieved everything he needs to achieve," Ricky Simms told the Daily Star.
"There are a million other opportunities for him and he is ready to move on to the next chapter."
Bolt, a Manchester United fan, has agreed to play for the Old Trafford club in a charity match against Barcelona on September 2, should he recover in time from a hamstring injury.